In association with the makers of the Mooncup — possibly the grossest feminine hygiene product ever created –Amy Winehouse has named her vagina: "I call it my little VaJew-Jew." (For the uninformed, the Mooncup, an Earth-friendly alternative to tampons, is a silicone cup that captures menstrual fluid and can be reused again and again. Lovely!) The company has even created on online, user-generated version of "The Vagina Monologues" with loveyourvagina.com.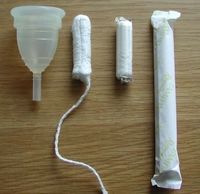 Because you needed to know more about Winehouse . . . down there.
Since we find the Grey's Anatomy reference a bit dated, we asked a few of our Jewesses to chime in with their pet names for the warm split knish.
Here's are our favorites:
Notorious J.A.P: "My kosher pickle cup. (I only date Jews)."
AnneFrank88: "My fur Fendi. My purse is expensive."
American Girl Rebecca Rubin: "My Tzedickah box is all about the joy of giving."
Heeb intern Dana: I'm not sure that celebrity crackhead even uses feminine hygiene products, or bathes for that matter. Hey, can I blog about that?"
Related posts:
What do you think?