This New Year's Eve, there's a new cool way to get drunk off your ass (or vagina). Just soak your tampons in vodka! It's extreme, dangerous, and absolutely disgusting. So, there's just one question… Why didn't my generation think of it first?! Obviously, today's teens are far craftier than we were ten years ago. A novel way to get wasted without making your breath smell? You can get drunk and do your homework at the same time! Multitasking at its very best, and all it will cost you is a raging yeast infection.
And here's a fun New Years tip: Double your drunk IQ by tampon-ing while you drink! You'll get drunker, twice as fast, and because the vodka will make you sterile, you won't need to worry about the morning after pill! Yes indeed, 2012 is gonna be a great year!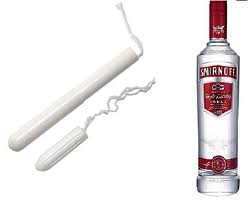 Just add noisemaker for epic New Year's fun!
What do you think?