Oddly enough, Spanish Foreign Minister Miguel Angel Moratinos implied that granting Turkey membership to the European Union would somehow assist the Israeli-Palestinian peace process.
The New York Times reports:
"[Morantinos] added that the EU considers Turkey a partner of high strategic importance, specifically mentioning its diplomatic network in the Middle East . . . "

Turning to the Middle East, Moratinos said that bringing a solution to the Israeli-Palestinian conflict was the most important challenge for the Spanish presidency, adding that he felt both parties wanted to negotiate but needed encouragement."
It's subtle, but it seems he's saying that Turkey's admission to the EU would be the "encouragement." What is unclear is how Turkey's admission helps. Its Muslim population? The diplomacy between Israel and Turkey? (Those two seem to have a hard time playing nice.)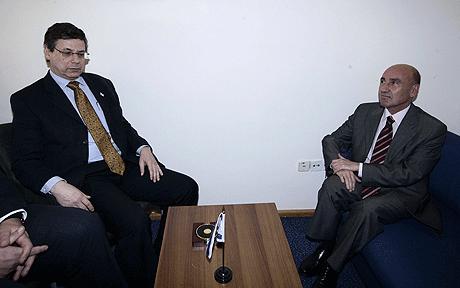 Israel recently gave a Turkish diplomat the short chair/cold shoulder.
Whatever reasons Spain has for wanting Turkey to join the EU must not be that convincing if it has to pull the old "because it will solve the Mid-East crisis" card. That comes right before "because I said so."
What do you think?