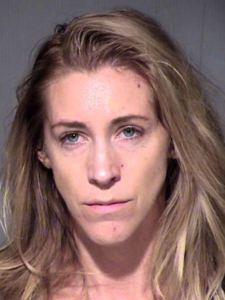 Back in my day, we had a simple luncheon following a Bar Mitzvah, and we were grateful to have that. Today, I can't believe the kind of excess that follows a young person's "today I am a man" speech. DJs, theme parties, and of course, new breast-implant exposure and touching.
The Daily News reports,
An Arizona woman who had recently gotten breast implants was busted after she got wasted at a Scottsdale bar mitzvah, showed off her new boobs to a group of unimpressed peers — and then got rowdy with a bunch of boys, police said.

Lindsey Radomski, 32, faces sexual misconduct and abuse charges after she allegedly let a group of youngsters touch her ta-tas and performed oral sex on one boy, the Daily News has learned.

[…]

The drunken yoga instructor later let seven underage boys, ages 11 to 15, fondle her new jugs in a bedroom, while most of the guests had gone home or fallen asleep.

She allegedly performed oral sex on a 15-year-old boy who was the last to leave, police said.

[…]

She was arrested Tuesday after the teen's parents reported the incident to the cops.
The real victims here, (besides, you know, the actual victims) are the boys in this kid's Hebrew school class that haven't had their bar mitzvahs yet. The bar has just been set impossibly, criminally, high.
What do you think?