by Amy Klein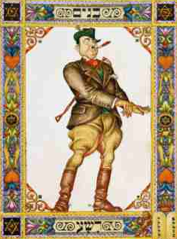 It is already 10:30 and my family is only up to The Four Sons story at the Passover Seder. My lucky nieces, having just sang The Four Questions, are dismissed to the kids' table to eat their matzah ball soup, which I eye hungrily, hoping for a fracas — any excuse — to get out of here. To finally eat.
What was I thinking, going to Seder at my brother's house? I know what I was thinking: I was thinking it would be nice to have a Seder with my family again. Sure, my father is married to a different woman – one who, unlike my divorced mother, wouldn't ask her Fifth question: "If Passover is about ending slavery, why do the women have to work their asses off to prepare?" And my younger brother is also married, but he's become an Ultra-Orthodox rabbi, moving as far to the right of our Modern Orthodox upbringing as I had moved left of it. But we are together again, me, my brother, and my middle sister, who, in her miniskirt and tights, is the only one of us who remained the same as we grew up, living in both the religious and Western worlds.
She convinced me to do the Seder with the fam, so here I am sitting next to congregants from my brother's synagogue who are probably wishing they were at their ex-mother-in-law/boring boss/hairdresser's house – anywhere but here, where every person in my family feels a God-given right to deliver commentary on every single sentence of the Passover Haggadah book.
That's what I'm doing here: I remember my childhood Passovers being raucous and fun, as I played with my cousins and siblings under the table, stole food from the kitchen, and intermittently begged my father for clues to where the Afikoman matzah was hidden. I'd forgotten the part where I grew up and had to sit at the table, where the adults delved deeply into the same issues over and over and over again, postponing dinner until well after midnight.
Once again, I've confused feeling nostalgic with thinking I was missing out, thinking I could go back. I left the religious lifestyle late, at age 30, because my politics had changed, more than my theology. But now, ten years later, bereft of the comforts of community, of their certainty and sense of purpose, I sometimes return. I'll go to a religious friend's house for Shabbat, where my taste buds rejoice at the familiar taste of kugel and cholent, but am then shocked when one of the guests makes fun of, say, feminists. Or gays. Or liberals. Or the Arabs. And then I remember that at age 40, I'm different. I don't belong.
I feel like I don't really belong at this Seder, where my family is hotly debating the story of the Four Sons: The Smart Son, The Wicked Son, the Innocent One, and the One Who Doesn't Know How to Ask. The "sons" represent different types of Jews. (No one, even my fundamentalist creationist family, thinks the sons are real.)
"But why is he wicked," my sister is arguing. "What's so wrong with him? Just because he isn't doing what they want, should they call him evil?" she laments.
"He took himself out of the equation. That's the worst thing you can do in Judaism," my brother replies. He opens the Haggadah book and reads: "The Wicked Son says, 'What is all this worship to you?' He's saying you!! Not us!! He's not a part of it," my brother bangs the table. "He's an apikoress — an apostate," he says, defining the word for the synagogue members, who were all looking in my direction.
Everyone, I think, is looking at me. I understand why my usually quiet sister (The Innocent One) is so interested in this debate. This debate about the Wicked Child is about me. I am their Wicked Child. And she, forever in the middle, is defending me.
Armed with years of religious education, I can defend myself. "I think the Wicked Child is fascinating," I say.
The guests, slumped and falling dangerously close to their wine glasses, perk up. My brother glances worriedly at them. In the last ten years of my non-Orthodoxy, my family has had to deal with my Democratic, liberal, feminist, Two-State Solution outbursts, although as of late we have a detente on politics and religion. But it is Passover. And they started.
"Don't you think it's interesting how the Wicked Child says, 'What is this worship you all do?'"
My brother, afraid of what I might say, whom I might convert to my team, still must engage. "What's your point, Amy?" he says, feigning patience.
I explain that the Wicked Child asks them all about the "worship" they do, not the "faith" they have. "The Wicked Child doesn't have a problem with their belief system, with their believing in God. He just has a problem with how they go about it," I am standing now, like a rabbi. "The Wicked Child thinks they're like pointless busy bees, running around moving piles of dust with all their arcane laws. That's why they call him Wicked. They are afraid if others understand the pointlessness of the laws, there will be a revolution."
The guests were trying not to smile. My brother was not. My father was not.
My younger sister, God bless her soul, says, "Well, I don't think you're the Wicked Child."
My brother, remembering his filial duties, agrees. "She's not the Wicked Child. She's the One Who Doesn't Know How To Ask."
I smiled in triumph and then realized this is the biggest insult of them all. The One Who Doesn't Know How To Ask is not Good or Wicked or even Innocent, just someone who understands nothing. That's what my brother thinks of me, that I just don't understand Judaism properly. That I don't see how beautiful it is. That's how we have maintained the peace between our differing lifestyles. "She is not evil," they think. "Only misinformed."
Just a few weeks ago I was upset that my five-year-old niece had to wear a uniform to school, long-sleeve shirts, long skirts and knee socks, even in 90 degree weather. "Some people enjoy tznius," my brother said about the modesty laws. It's true, his wife enjoys wearing a wig and keeping her elbows, knees and collarbone covered, in her long flowing skirts and stockings. He believes that if I only could understand the laws of modesty properly, I would be like them. If only he could explain it all, to me, to the guests and his synagogue members which he is trying to show the way.
He has a chance, to show them the way. I see it and feel it every time I am there, like at this Seder. His family is so lovely, his wife so gentle and kind, his kids so happy and joyous. For the opening blessing on the wine they danced in a circle, and were as excited as I had been as a kid for the hidden matzah hunt. They don't have a TV and there's no clamoring for endless cartoon-character themed toys because they've never even seen a movie! It's all so tempting, it tempts me, every time I am there. The promise of peace in such a sheltered life.
"You just don't have a religious personality," my sister-in-law, the rebbetzin, once said to me. It's true. I chafed at all the rules, the rigidity, the lack of poetry and freedom (speaking of Passover.)
And also, the price of this country-club living – shutting out everyone who is not like you — it's like vacationing in the glamorous resorts of Jamaica surrounded by slums. The gated community is lovely if you don't think about the people who are locked out. Those people, the downtrodden minorities, are the ones who I want to champion for. That is my Judaism.
"I'm not the Son Who Doesn't Know How to Ask," I say and everyone looks at me. I was raised a God-fearing, Kosher-eating, Shabbat-keeping, Israel-worshipping religious Jew, and now I am a liberal, secular, spiritual artist, so I understand the world from both sides. I am one of the few people in the religious-secular wars who can see the beauty of the religion and the sensibility of secularism. Outwardly, I have made my choice, cast my lot in with the rest of the world, but inwardly, I'm not always so sure. But I would never tell my family this. They would try to bring me back into the fold. But it would all end the same way, with me leaving, again and again, till the end of time.
Maybe this is why my father – who knows better than to incite me in this fight – thinks I'm the Wicked Child: I have the education, the upbringing, the experience, and still I do not worship their way.
"I am not any of the Four Sons," I declare.
"You're not a Son!" my five-year-old niece laughs.
"I don't fit into any of these categories," I add. Not having a label – Orthodox, Conservative, Reform, Secular – always confuses people. It makes them angry when they can't fit you into a box. But being a lapsed Orthodox Jew is like being a former rock star – you don't ever lose your past, and you sometimes long for old times.
It's already 11 pm, and I hear my stomach growl from hunger, from the tension, from coming to a debate I don't want to have anymore. The guests are looking to me, my brother, my father, my sister, for someone to settle this for them.
"Hey, can we move on now to the Ten Plagues or something more upbeat?" I joke. "We can always go back to this topic tomorrow night."
Amy Klein is a freelance writer. Her work can be found at www.KleinsLines.com
What do you think?