By Monica Rozenfeld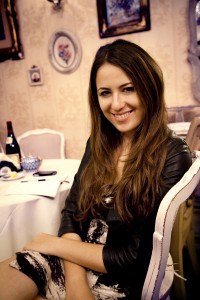 At the bottom of the TV production chain, Elina Miller had some time to think about the appeal of reality shows like the Jersey Shore. Born in the Soviet Union and familiar with Russian Brooklynites, Miller knows the real party goes down in Brighton Beach. Not much else compares to belly-dancing babushka cougars or terming meat dumplings as a euphemism for sex. Miller moved with her cameraman hubby and eight new friends into the fur-loving neighborhood and ate nothing but Soviet delicatessen last winter. Heeb sat down with Miller, the co-executive producer of Russian Dolls (cancelled) to find out more about the cast, what it was like to film, and what happens when a sweet Russian-American TV assistant becomes the producer of an off-the-boat reality show.
What was it like living in the land of the Dolls?
It felt like I was living in Russia. No one speaks English in Brighton Beach. You go to the deli and the men are rude to you. If you hesitate a little they're like, "What do you want?" But it also felt very much at home, like being around extended family or long-lost relatives. Not to mention, I only ate Russian food and listened to Russian radio. Some TV producers move to China or India for work. Having made it back to Manhattan in one piece, I can now say I had my very own Brighton Beach experience, and I'm only a few pounds heavier.
Do you feel the cast represented Russians to the fullest? As a fellow Soviet, I felt it was pretty accurate. Many feel otherwise.
Some people think we should have picked a computer programmer, a nurse or a librarian. We needed people who exhibit characteristics of Russian culture that we're trying to show off, in a loud and expressive way. When the cameras were off, the show's stars acted exactly the same. We followed them in their natural environment and documented their lives. They're not shy people.
Are Russians racist because some keep to their own kind when it comes to dating?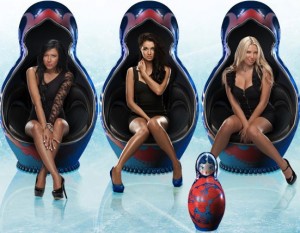 In Russian culture, things are a little different. Women are expected to have a career, but they're also expected to marry young and have children. For Diana, dating only Russian men is her own personal choice. Russian Dolls isn't some kind of homogenization experiment. It's what her family wants, it's what she wants, and I don't think there is anything wrong with that.
So, the entire cast was Jewish… 
It's interesting to talk about because in other reality shows people don't normally ask, "Are the Jersey Shore cast members Catholic because they're Italian?" I almost feel weird talking about my cast members' religion. Why does it matter? It's such a private thing. It's no secret that a lot of immigrants from the former Soviet Union are Jewish, but Russian Dolls is a show about Russian culture, not Russian Jews. We came here so we wouldn't have to talk about our religion, so that we wouldn't have to be identified as Jewish like we were in the Soviet Union. We didn't set out to make a reality show about one certain religion. We set out to show how a culture lives.
It seems like you don't mind Russian Dolls being compared to Jersey Shore.
I was 5 when I first moved to this country and I always felt different because my home life didn't match any show I saw on TV. I watched Saved By the Bell and Full House and I couldn't identify with anybody. I knew that someday I wanted to help immigrants feel a sense of belonging. When I started working in television I realized that a reality show might be a way, and Jersey Shore was the catalyst. The personalities on Russian Dolls are just as big; it's just an all-ages Jersey Shore. When Snooki grows up, she might find herself to be like Marina.
Everyone is curious about the cast's individual successes. They've got street cred—Marina's restaurant Rasputin and Anna's modeling agency. What's that about?
What I think it boils down to, and I experience it in my own life, my family gave up everything to bring me here. They would have been fine if they stayed in Russia. They were doing OK. They had cars, friends, a vision of what their future was going to be like.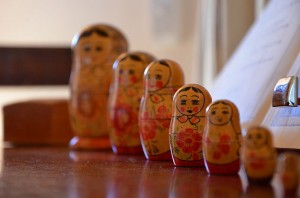 And they abandoned all of that for me to have different opportunities, because while they would have been fine, they saw the likelihood that my future could have been different.
I don't want them to have thrown away everything they had in the former Soviet Union so I could come here and sit on my ass. I feel the cast shares a similar sentiment. There's a desire to please your parents and to thank them for everything they did for you. It's a strong and engrained part of you that drives everything you do. Failure is not an option.
What does the motherland think of the show?
It's been very popular in Russia. They haven't seen the show, but they have strong opinions about it.
Since we left in the 80s and early 90s, it's almost like they forgot about us. Russia is very nationalistic and they're like, "You don't want us? Forget you." But the show is recalling this mass migration and it's opening up a lot of old wounds. These old feelings of why people left are surfacing. They're curious how we're doing now. In the show it's evident just how well we're faring. We came here with nothing. Russian Dolls is proof of the kinds of lives we've been able to build.
Monica Rozenfeld is a health, culture and lifestyle, writer living in Brooklyn, NY. She is the founder of Lilt Quarterly, a digital magazine on holistic living for online and the iPad. Monica is currently earning her M.A. in entrepreneurial journalism. Follow her on Twitter @M_roze.