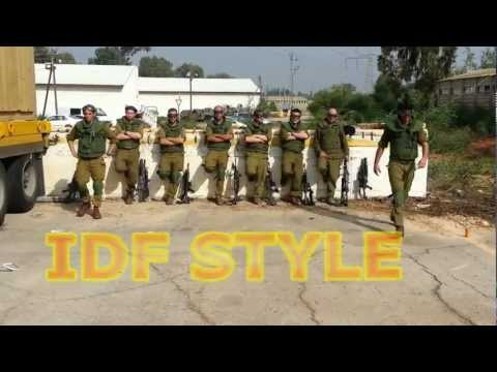 IDF Style is an embarrassment. (No, not just because the dancing is atrocious, which is confusing  – aren't Israelis supposed to be great dancers at the discotec? Is that a stereotype I made up? Either way, I'd rather watch myself dance naked in front of a mirror to Britney Spears' Toxic than watch that video again.)
Think about it – The Gangnam Style video has been up since July – it's now the most watched video in Youtube history – which means these guys had four entire months to perfect one of the diabolically easiest dances on the internet. Four months, and they don't even know how to do a simple 1-2-1-2 dance move. I'm embarrassed for all of them. I hope that they work better together as military squad than a dance company.
Also, take a look at when this was uploaded.  November 22 – in the middle of the latest Gaza conflict. Now, maybe they danced earlier in the summer and it was uploaded now because Israel only just learned that Gangnam Style is popular? Or they were celebrating…I'dknow? What do soldiers in wartime celebrate, anyways?
Look, I know they're just kids, but…I'm calling this another Israel PR fail. (Fuck it. At least they aren't the 'Maccabeats'.)
Moral of the story – For every successful Jew in Hollywood there's a dozen dancing terribly and making terrible parodies on Youtube.
What do you think?