It seems like only yesterday when we were asking "Where Have You Gone, Sandy Koufax?," but what can I say?–time flies when you're baking Jew cookies. Yep, things have changed and you can pine for the good old days all you want, but the fact of the matter is there's a Jewish renaissance going on in Major League Baseball. Below is a glance at my fantasy Hebrew Nation roster and a nation-by-nation comparison to the rest of the competition: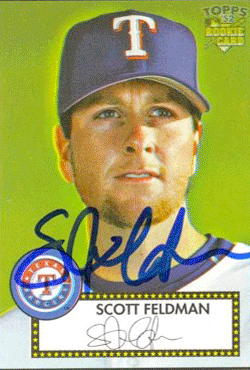 COMMENT: Sure, the Hebrew Nation has some holes in the lineup (minor leaguers Ike Davis and Jason Kipnis, not to mention journeymen Gabe Kapler and Brad Ausmus), but who's to say how these guys might play on an international stage? After all, only 5 of the 9 players on the Japanese international team play in the major leagues (and 3 of them are kind of scrubs). Plus, with Braun, Kinsler and Youklis, the Hebrew Nation boasts a murderers row that is comparable to any in the international field. If Feldman gets into trouble, the team would be able to turn to Jason Marquis, Craig Breslow, John Grabow and Aaron Poreda out of the bullpen. I'd love to see how this team faired in international play–though I wouldn't want to negotiate contracts with these guys or hear them complain about the temperature in the locker room.
VENEZUELA
P: Felix Hernandez
C: Ramon Hernandez
1B: Miguel Cabrera
2B: Jose Lopez
SS: Marco Scutaro
3B: Melvin Mora
OF: Magglio Ordonez
OF: Bobby Abreu
OF: Gerardo Parra
COMMENT: A flat out ace and a bunch of middle-of-the-road players seemingly past their primes. Even if they were inspired by the anti-Semitic ire of Hugo Chavez, this team would be no match for the Hebrew Nation.
EDGE: HEBREW NATION
PUERTO RICO
P: Javier Vasquez
C: Jorge Posada
1B: Carlos Delgado
2B: Felipe Lopez
SS: Mike Avilles
3B: Ramon Vasquez
OF: Carlos Beltran
OF: Alex Rios
OF: Jesus Feliciano
COMMENT: Alex Rios and the oft-injured Jorge Posada and Carlos Beltran in the middle of your lineup? Puerto Rico would be a Caribbean vacation for the Hebrew Nation.
EDGE: HEBREW NATION
Dominican Republic
P: Ubaldo Jimenez
C: Miguel Olivo
1B: Albert Pujols
2B: Robinson Cano
SS: Hanley Ramirez
3B: Willy Aybar
OF: Manny Ramirez
OF: Nelson Cruz
OF: Jose Guillen
COMMENT: No lineup from 1-9 can compete with DR. In fact, this team could probably compete with the Yankees and Phillies. Despite what happened in 1938, it'd be hard to imagine the Dominican Republic offering the Hebrew Nation any refuge.
EDGE: DOMINICAN REPUBLIC
TEAM USA
P: Tim Lincecum
C: Joe Mauer
1B: Prince Fielder
2B: Chase Utley
SS: Derek Jeter
3B: Evan Longoria
OF: Carl Crawford
OF: Matt Kemp
OF: Jason Bay
COMMENT: Three of the members of the Hebrew Nation would start for Team USA, which means that 6 members of Team USA would start for the Hebrew Nation. This would be a tough series to win, even if the Hebrew Nation found a Hank Greenberg golem and started shooting it up with anabolic substances.
EDGE: TEAM USA
JAPAN
P: Daisuke Matsuzaka
C: Kenji Johjima
1B: Michihiro Ogasawara
2B: Akinori Iwamura
SS: Munenori Kawasaki
3B: Shuichi Murata
OF: Hideki Matsui
OF: Kosjuke Fukudome
OF: Ichiro Suzuki
COMMENT: On paper, Japan seems beatable. But, the Japanese thrive in international play. The Hebrew Nation would have about as much chance to savor this matchup as it would to savor kosher sushi.
EDGE: JAPAN
KOREA
P: Min Han Son
C: Min-Ho Kang
1B: Jeong Choi
2B: Keun-Woo Jeong
SS: Ki Hyuk Park
3B: Dae-Ho Lee
OF: Yong-Kyu Lee
OF: Hyun-Soo Kim
OF: Shin-Soo Choo
COMMENT: The Koreans made it to the finals of the World Baseball Classic earlier this year, plus, growing up, the Korean kids on my block always studied just as hard as the Jews, so let's call it a draw.
EDGE: EVEN
Of course, the Hebrew Nation, a loose and informal confederacy of individuals who share only a heritage and a loose feeling of nationhood will never get to compete as a team in international play (unless they move to Israel, I guess). But it's sort of fun to think about, because if they did, they could certainly compete with the all-star team of any other nation on the planet.
UPDATE:
Some of you have emailed me to ask about the Cubans. In short, I think the World Baseball Classic suggested that the game may have passed them by, but here you go:
P: Aroldis Chapman
C: Yosvany Peraza
1B: Kendry Morales
2B: Alexei Ramirez
SS: Yunel Escobar
3B: Michel Enriquez
OF: Frederich Cepeda

OF: Yoennis Cespedes
OF: Alfredo Despaigne
COMMENT: Imagine Meyer Lansky, who build the Riviera Hotel and Casino in Havana, learning that in less than a half-a-century Cuba would have no gambling and be surpassed on the baseball field by his Jewish descendants? He wouldn't bet on it, that's for sure.
EDGE: HEBREW NATION
What do you think?