Doug Quint is the Queen behind the Big Gay Ice Cream Truck, which is spreading a rainbow of sprinkles across New York this summer. Quint knew that plenty of people would have something snide to say about a middle-aged gay ice cream man, but he stopped those would-be critics in their tracks by transforming his Mr. Softee into a fabulous traveling dessert emporium. Check out the treat below: vanilla soft serve covered in curried toasted coconut.
With the help of Twitter and New York's ice cream lovers, the Big Gay Ice Cream Truck is winning over homophobes one caramelized bacon/chocolate ice cream sandwich (choinkwich) at a time.
The Big Gay Ice Cream truck has become more than a summer gig for Doug, he recently blogged about the kids–most seem to be tourists–who are amazed about the GAY truck.
"Usually the kid is between seven and 12, I'd say. You can tell that they only think of the word 'gay' as an insult. The parents brush it off. I can see that some of them do so naturally, and others take a brief moment while they decide how to react. They shrug, or tell their child, 'Yep, it's the Big Gay Ice Cream Truck.' Sometimes they even come over for a cone.

I wonder if my silly banner, and the child/parent reactions to it, might be a good thing. Maybe one or two of the kids that pass by my truck will now think twice before using 'gay' as an insult. If that keeps one kid from hearing it the way I (and lots of you) did–as a personal attack– I'm proud."
Doug, I'd be even prouder if you rang your bell over by Heeb in DUMBO. I'm dying for a choinkwich.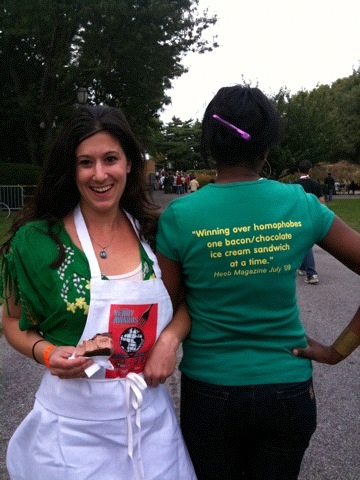 Update: The Big Gay Ice Cream Truck loved this post so much, they used a quote from it on their tee-shirts. Get your own.
What do you think?