The holidays can be tough. Family (awful), friends (boring), office parties (kill me now) – all of it takes a definite toll on your mental and physical well-being. Some of you might be able to grit your teeth and tough it out, relatively unscathed, but if you're anything like me you need a little liquid fortification to make it through the holiday season in one piece.  Fortunately the folks at Thrillist feel the same way, which is why they – along with the bartenders at Denver's Vesper Lounge – have concocted three ultimate Hanukkah cocktails, each using that oft-maligned Jewish table wine: Manischewitz.
So, for your all you drunken stupor/diabetic coma needs – The "Gelt Chaser"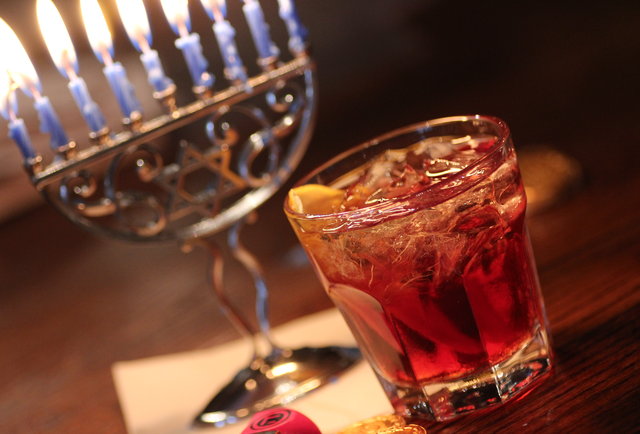 What's in it: More than what Weird Al would call a Hanukkah parody song of Kanye West's "Gold Digger", Gelt Chaser is not only the perfect 'tail to wash down that chocolate, but it's also a holiday alternative to a Rusty Nail — the Manischewitz adds a slight sweetness to it.
How to make it: Combine .5oz Drambuie, 1oz Manischewitz, and 2oz Cutty Sark blended Scotch. Enjoy your perfectly kosher drink.
For more Manichewitz masterpieces ("Maccabee Blood"! "Eight Daze"!) head over to Thrillist and check out their expert Hanukkah libations. Because if you're gonna spend Hanukkah in a boozy puddle, least make it a holiday-appropriate one.
What do you think?