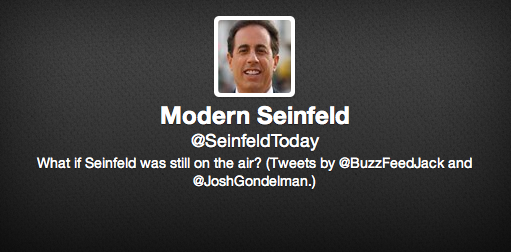 Certain things never get old, they only get outdated. Things like the hits of Donna Summers, the musical RENT, and everyone's favourite 90's sitcom, Seinfeld. Look back at these gems ten or even twenty years later, you can't helped but wonder, "What would this be like if it were created today?" Well, when it comes to Jerry, George, Elaine, or Kramer – wonder no more, thanks to comedians Jack Moore and Josh Gondelman and their ModernSeinfeld twitter account. While only three weeks old, the account has already racked up a whopping 287,131 followers. It's worth nothing that the Seinfeld of the twenty-first century doesn't follow anyone, himself. He's probably too busy focussing on his own crises.
Jerry breaks up with his girlfriend (Malin Akerman) because she live-tweets everything. "You're eating a bagel! I don't care! No one CARES!"

— Modern Seinfeld (@SeinfeldToday) December 31, 2012
As you would expect, he also spends a lot of time tweeting about his friends problems:
George pretends to be a Republican to date a Fox News anchor (Jenna Elfman). Kramer finally discovers Harry Potter.

— Modern Seinfeld (@SeinfeldToday) December 27, 2012
Thanks to Gondelman and Moore, we no longer need to lose sleep asking ourselves, "Would Seinfeld and the gang be less neurotic by the year 2013?" The answer, thank goodness, is "no."
What do you think?