(video after the jump)
Freaking out over Nazi health care policies, "Obamacare" and other propaganda crap, Tea party members — "America's anti-Mensa" — are lashing out. Barney Frank was called a faggot, John Lewis was called a nigger and the death threats are flying. Right wing bloggers are posting home addresses of Democrats online and, fearing for their loved ones's safety, some members are moving their families out of their home districts. Representative Russ Carnahan (D-Mo.) even had a coffin placed in front of his house. Thought they've made some half-hearted statements condemning the violence, Republicans are mostly helping out with classy moves like the one below: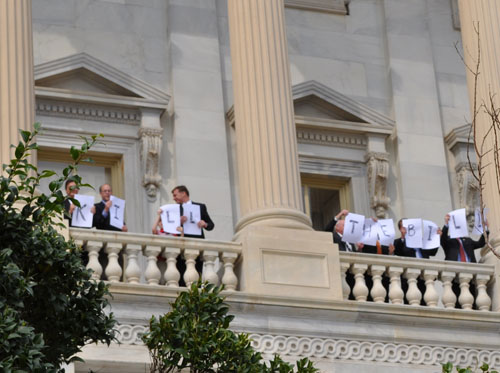 Republican lawmakers quell outraged crowds with reasonable points on debate.
Even Representative Anthony Weiner, one of Heeb's favorites, has received anti-Semitic notes. One letter was signed with a swastika, another addressed him as "Shlomo." Though Weiner's office has confirmed for Heeb that he recieved such letters, they have not yet gotten back to us with a statement (even though you promised "by the end of the day," Dave.)
So what's a Republican to do when reports of Tea Party madness makes the right look unreasonable? Send in House Minority Whip and token Jew Eric Cantor (R-Va.) to turn the story around. Yeah, the Democrats are exploiting death threats for political gain. Yeah, that's it. You're a Jew, Eric. You can pull it off.
"I've recieved threats since I assumed elected office — not only because of my position, but also because I'm Jewish. I've never blamed anyone in this body for that," said Cantor on Thursday.
Though we appreciate the fact that he doesn't blame other congressmen for his religion, we'd like to point out that Cantor is a disingenuous schmuck. Watch him twist it so the victims of violence are just "fanning flames." If politics don't work out for you, please never work a rape crisis hotline, Cantor. See his entire performance/press conference below.
Related Posts:
Find the Jew: The State of the Union Edition; or, Happy Bar Mitzvah, Barack
USA Today Wonders Why Smart Jews Hate Palin and I'm Uncomfortable
What do you think?