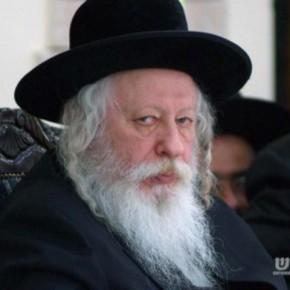 *This article has been updated to reflect allegations regarding one of the sources used*
In middle-school science class, I learned that if someone is exposed to anything for long enough (like, eons), that thing would eventually give that person cancer. That's how this big scary world of ours must seem to the Rabbi of the Hasidic Gur Yeshiva – Only, instead of "cancer", it's "gay".
As was recently reported, a rabbi from the ultra-orthodox Gur hasidic sect has allegedly declared that eating soy leads to "gay sexual activity" and has:
…ordered students to stay away from any food containing soy because even eating a soy based product just once a week can cause unwanted arousal.

Officials at the school believe that soy based products contain harmful hormones that damage the spirituality of students by accelerating sexual maturity.
Not that this is that particular sect's first brush with seemingly innocuous gay-makers, either. Just this past August, Gur Rabbi Abraham Benjamin Silberberg allegedly banned handshakes between men for fear it could – you guessed it – Make you gay! In fact, the Gur hasids have a long, illustrious history of being absolutely insane about sex. Still, gay soy has got to be the high water mark in their vast ocean of offensive ignorance.
So, in honor of the wise and worldly Gur hasidic rabbi behind this latest batch of talmudic insight, I recommend each and every one of you chow down on some soy, shake a few hands, and have some incredible sex. Then, report back to Heeb and tell us – did it turn you gay? (or, if you're already there, turn you even more gay?)
After all, if we can't trust a rabbi to accurately discern which foods make us gay, well, who can we trust?
[image via YourJewishNews.com]
*****UPDATE 10/30*****
Rabbi Eliyahu Fink, over on the self-publishing platform Medium.com, has cast some doubt over whether Gur Hasids have, in fact, banned soy out of gay panic, or whether this is an echo of an much older soy-banning claim regarding the same Hasidic sect. Fink calls into question the veracity of YourJewishNews.com – one of the two sources used/quoted in this article, and in the interest of transparency, it's worth sharing.
That said, in the interest of transparency, it's also worth mentioning that while Fink's qualms with YJN itself are one thing, his refutation of YJN's claim is based on "a friend of [Fink's who] called a friend with family in Gur in Israel".
What do you think?