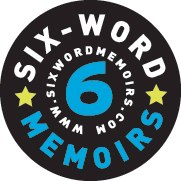 If you've heard of SMITH Magazine, chances are it's from their addictive Six-Word Memoir project and book series. Their latest, and thus the impetus for this post, SIX WORDS ON THE JEWISH LIFE. The choicest ones entered on SMITH will wind up in the book, "Oy! Only Six? Why Not More? — Six Words on the Jewish Life" out in early 2012, and debuting at the London Jewish Book Festival.
HANUKKAH CONTEST:
Heeb is teaming up with SMITH to give away eight copies of the Six Words on Jewish life book, one on each night of Hanukkah to the best memoir entered on SMITH, as chosen by Heeb editors. Each winning entry will also be tweeted from both @HEEB and @SMITHmag, and, of course, have a shot at getting in the book. We'll select one of the eight winners, at random, to win the new Six-Word Memoir Game.
My favorites so far:
Have nine Rachels in address book. — Larry Smith
We are not a concise people. — Joel Stein
Coolest kid at Yeshiva. Still Nerdy. — JKMD
My own:
Hid comics in Hebrew School textbooks.
Watch a video preview of the Six Words on Jewish Life book:
Heeb mishpucha by way of mutual Comics Editor (moi), SMITH Magazine is home to many a momentous personal storytelling project. A.D.: New Orleans After The Deluge, the acclaimed Katrina graphic novel "documentary" by Josh Neufeld, began as a webcomic on SMITH, and The Pekar Project, with original stories written by Harvey Pekar (American Splendor), is one of my own loved labors.
What do you think?