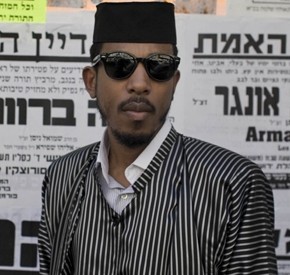 Celebrity political endorsements are a high-wire act. Sometimes they inspire the public to see a candidate in a new light. Other times they're nothing more than old men yelling at things. But even we, savvy political observers that we are, don't quite know what to make of the latest proclamations from Rapper-turned-Felon-turned-Orthodox-Jew Shyne.
In a recent phone interview with MTVNews Shyne blasted President Obama as "corny", claiming ""Obama is playing games, he frontin', he better do the right thing." And, should the president not do the right thing? Shyne adds,  ominously, "[The] Jew is powerful, man. So if he don't help the Jew out, you know what I mean? He ain't gonna be blessed." Clearly, Shyne has studied at the Sheldon Adelson school of political thought. 
Shyne, currently unable to enter the United States following his deportation after serving 9 years in prison for a now infamous nightclub shooting, seemed baffled that the President – a well documented hip hop fan  – hasn't turned to him for help. After all, he pointed out, "How can he [President Obama] be serious about stopping violence in inner cities and promoting education in inner cities and not using Shyne?".
So, who is he voting for this year? Shyne is clear: "Mitt Romney", adding (and, quoting Kanye West) "Even though Mitt Romney don't pay no taxes. Mitt Romney don't pay no taxes." In endorsing Mitt Romney, Shyne has become a bit of a statistical outlier; a recent American Jewish Committee poll placed Jewish support of the President at 65%, while African-American support has regularly hovered around 90%.  Polling, however, remains inconclusive regarding Jewish support for Rick Ross' "Black Bar-Mitzvah" mixtape, which Shyne, predictably, hates.
What do you think?