When I first started thinking about Black Jews, it was just another typical Sunday afternoon, nursing a hangover, partly watching Rachel Ray miraculously whip up another 30-minute meal, and, like all other single women in the Upper West Side, browsing for my beshert on JDate. Too old, too young, too short, too fat, too cute, too gross; it was more of the same until all of a sudden I came across YesImReallyJewish.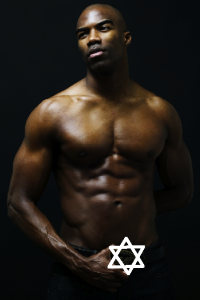 You are?!… You?…
I had my doubts. You see, YesImReallyJewish appeared to be a toned, tall, dark and handsome Black man. Indulging in my curiosity (and my love for Black men,) I agreed to meet him for a drink. I hate to admit, but like most of us, I questioned his "authenticity." How could this person, who was so apparently different from me, be from the same religion?
After getting to know YesImReallyJewish, I realized that he was in fact not just Jewish, but a big Jew. He went to a Jewish day school, led a Passover Seder, travels to Israel, and appreciates a good matzoh ball. (Now there's a JDate profile.) Even so, after six months I still catch myself testing his Jewishness by asking him things like, "So, like, have you ever had a really good apple kugel?" Yes, he has.
We Jews take pride in the fact that we raise our kids to be educated, open-minded and tolerant. Yet we essentially teach them that to be Jewish is to be White. In fact Gary Tobin, a San Francisco based demographer, shows in his research, one out of every seven Jewish households is interracial.
Marlaine Glicksman, in her new film Commandment Keepers (which explores the under appreciated–and largely unknown–existence of the only African-American Jewish community in Harlem), raised the issue when she began her research on the synagogue, Commandment Keepers Ethiopian Hebrew Congregation. The Synagogue was founded in 1919 by Rabbi Wentworth A. Matthew, an African-American, during a time when White Jews largely inhabited Harlem.  Glicksman's film, The Commandment Keepers not only explores the past and present history of Black Jews, but also discusses the historic relationship between Blacks and Jews in general.
There's a widespread misconception that because Jews and Blacks have so much in common in their history (persecution, life in a diaspora, minority status) there should be nothing but a positive bond between the two. In actuality the harsh break between the communities has been prevalent for decades. (The Crown Heights riots being a prime example.) Commandment Keepers is about the history of Jewish Harlem, Black Harlem and Black-Jewish Harlem.
Marlaine Glicksman's The Commandment Keepers is being screened on Tuesday, April 17th, 8:00pm at the 92Y.  For more information or to purchase tickets, visit: http://bit.ly/CKSocial