UFC 106: Ortiz vs. Griffin 2 is just days away, so what are you going to do? Ultimate fighting superstars Tito Ortiz (Jenna Jameson's baby daddy) and Forrest Griffin (a man who looks curiously like Curious George) return to the Octagonto battle it out for a crowd in Las Vegas and an even bigger one on Pay-Per-View. Will Griffin finally settle the score with "The Huntington Beach Bad Boy"? Who cares, you ask? Well, I do, okay?
Look, the Ultimate Fighting Championship isn't just for douchebags anymore. Don't get me wrong, it is for douchebags. I'd be lying if I said you won't see a glut of thick-browed Geico cavemen strutting around with their chests sticking out farther their dinky, little penises. But I'm writing to announce it's OK for us, the faggoty elitists, to watch, too. MMA (Mixed Martial Arts) expresses something ancient and thrilling. Combat is exciting, and loving it doesn't make you a heathen. The same person who adoresInglourious Basterds but lambastes UFC for being "savage" is missing something. Sure, Tarantino is expressing violence in cartoonish terms, but what's compelling about it is something limbic. I'm tired of being embarrassed for enjoying that. I've been following UFC since the nineties, way before it was cool among the chin-strapped, spiky-haired pretty boys who claim it today. I was into it before it was cool. (See? I'm even talking about it like it's an obscure band I followed that got big and now I can't stand. Cool, right?)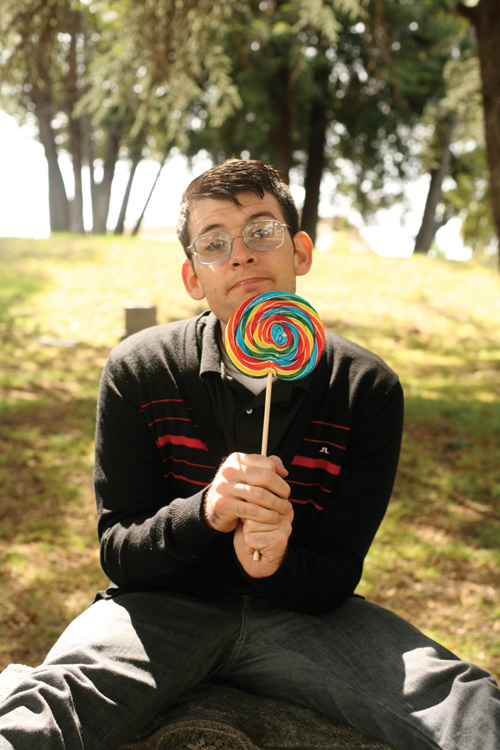 Moshe Kasher, Comedian and Unapologetic Non-Gay UFC Fan
Anyone who rolls their eyes and asks, "But isn't it just so violent?" is both missing the point and a huge pussy (especially if they are male). Yes, it's violent, dummy. It is violence. In any given UFC fight, there are conflict archetypes. These clashing giants remind me of biblical strongmen and golems with clay fists. And this particular match has two former champions, both struggling to keep themselves relevant and remind people of their power. It's goddamn epic. If you can't see how thrilling this is, you're not looking in the animal places within.
And it is not gay. Yeah, I do jerk off to it, sure, but that's more from the sexualized violence than the homoeroticism. It's just two chiseled men in tight shorts writhing around on the mat and . . . okay, maybe it's a little gay, but shouldn't the douchebags be the ones freaked out by that? Not you artistic types. You're supposed to be cool with the gay. Besides, it's not real gay. It's like Greek gay, which was more a celebration of manhood than anything else. Yes, it's beautiful to see two perfect, Adonis-like warriors destroying each other for our pleasure. You think that makes me a barbarian? I think that makes me alive. If you feel squeamish, try squash or a poetry slam. I want to feel my blood boil and scream for my champion. It makes me feel like I'm in Rome watching a lion eat a Jew. (Wait! Bad example.) Anyway, I like it. If you don't, that's okay, but don't let your prejudices stop you from checking it out. That's just gay.
Catch Moshe Kasher before Ortiz and Griffin start pummeling each other on Comedy Central's Live at Gotham on Friday, November 20 at 11 p.m. Or if you're lucky enough to be in Austin, Texas this weekend see Moshe in the flesh at Cap City Comedy Club.
Click for more upcoming gigs.
Moshe Kasher is hosting San Francisco's Heebonism, the mother of all Christmas Eve parties. Click for more details.
What do you think?