Recent mega-duds notwithstanding, there's a relatively strong case to be made for Adam Sandler's early career of inspired buffoonery to be considered something of an heir to the equally inspired buffoonery of Mel Brooks. Yes, Brooks' films were more about rapid-fire gags, while Sandler relied on mumbling jackassery for laughs, but both Mel and Adam made their names reveling in the lowbrow, elevating bodily functions, funny accents, and general idiocy to sublime comedic heights. With this in mind, it makes a certain amount of sense that Brooks has been announced as Adam Sandler's vampiric dad in the upcoming sequel to 2012's Hotel Transylvania.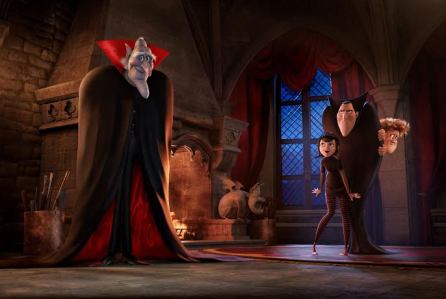 According to Deadline, Brooks will play Vlad, "the very old and grumpy vampire father to Adam Sandler's Dracula" who pops in, unannounced, at his son's titular hotel. Regarding his new role, Brooks told the site "He's been around for eons, and he's a pretty crabby guy. Basically, he reminds me of me."
Like its predecessor, Hotel Transylvania 2 will be written by Robert Smigel, who is more well known for his TV Funhouse shorts on SNL, as well as Triumph the Insult Comic Dog, and will be directed by Genndy Tartakovsky, who made his mark with the too-cool-for-its-own-good Samurai Jack series on The Cartoon Network. Tartakovsky and Smigel's combined efforts managed to turn the first Hotel Transylvania into a decently enjoyable romp through classic monster movie tropes, in spite of the saccharine trappings of a PG-rated family film.
Vlad (presumably based on the historically "pretty crabby guy" Vlad Țepeș) marks the second time Brooks has dipped toes into the sanguine waters of vampirism, following 1995's Dracula: Dead And Loving It – his last feature film.
What do you think?