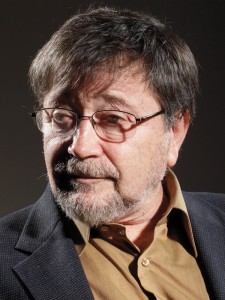 In the beginning of 2002, Daniel Pearl, a 38-year-old Wall Street Journal reporter on assignment investigating links between Al Qaeda and Pakistani intelligence, was kidnapped and beheaded in Karachi, Pakastan. The brutal nature of the tragedy, the video depicting Daniel's last minutes that would soon surface on the Internet and his last words "My name is Daniel Pearl. I am a Jewish-American…" garnered worldwide attention. This summer, A Mighty Heart, a film about Pearl's death based on the memoir by his surviving wife Mariane Pearl will hit theaters nationwide. The film will undoubtedly be buzzed about with its star power—Angelina Jolie plays Mariane and Brad Pitt is the producer—reminding all of America about the loss of this brave young man. But Judea Pearl, Daniel's father and the President of the Daniel Pearl Foundation, needs no more reminders. For the past five years he has been working diligently and passionately to give his son a lasting legacy.
Tel Aviv-born Judea Pearl was trained as a scientist. Ironically, focus of his work has been the problem of causality—the errors, misconceptions and frustrations that arise when humans search for causes. But, when his son Daniel was slain, Judea left the hermetic world of academia and stepped onto the public stage.Just a few short months after Daniel's death in 2002, he started the Daniel Pearl Foundation to promote cross-cultural understanding and further the ideals that inspired his son's life and work.
"I am not a born communicator. This is not my forte," he tells me.  "I do it because we have a big weapon—there are not many icons that are respected by both sides and that convey peace to both sides. Danny wasn't political—just an honest, decent person."
If Daniel is the foundation's weapon, Judea, 70, likens the its mission to that of a battle: "I'm a soldier. I want to fight the ideology that took my son's life. And our war has three battalions: journalism, music and dialogue."
The Annual Daniel Pearl Fellowship brings mid-career journalists and editors from South Asian, the Middle East and/or North Africa to work in U.S. newsrooms to gain a practical understanding of the editorial process in the United States, gain editorial skills and make relationships with other journalists and publications in the U.S. Along with the Pearl Youth Initiatives, which introduce young adults to journalism through internships and offers them the opportunity to contribute to the web-based news service Pearl World Youth News and The Annual Daniel Pearl Music Days (an annual festival held around the world around the time of Daniel's October 10 birthday), Judea Pearl has shared a series of dialogues on Muslim-Jewish understanding with Akbar Ahmed, Ibn Khaldun Chair of Islamic Studies at American University. "I see people getting together, Muslims and Jews, elevating above differences and recognizing that we're all human beings trying to make sense of what's going on, trying to educate our children and live under God."
Pearl's unassailable buoyancy is hard to grasp. "My optimism lies in the fact that sanity is as contagious as insanity. We saw it in the Renaissance.  You couldn't stop Galileo. They were burning people at the stake, but you couldn't stop Reason. Things are getting worse now. Extreme elements get all of the airtime. The only time the examples get airtime is when they are dead.  It takes a tragedy to zoom the camera in and tell the world this is well we are." And so, Judea Pearl is doing the best he can do with the airtime he and his foundation get. It's a far cry from the world of scholarly treatises on the nature of causality, but it's one that keeps the memories of his son alive. "There was not a shred of malice in Danny's bones," he tells me. "A miracle of biology. Even in the cradle. You hold his head. He wouldn't move it. A normal baby would startle. Daniel would keep re-positioning his head in your hand as if he wanted to be there. He was so secure."
Judea Pearl cradles his hands and smiles. He re-positions himself in his chair and, for the first time, seems comfortable.
What do you think?