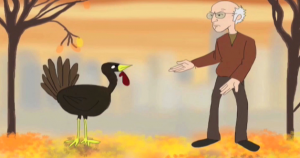 We've all heard the joke: What's the most Jewish holiday? Answer: Thanksgiving, because it's all about eating! And whose Jewish family's Thanksgiving history would you most like to hear about? Okay, other than Sarah Silverman. Hint: Think four parts less estrogen and three parts more curmudgeon.
That's right. This Thanksgiving, Larry David and Funny or Die bring you the story of Larry's childhood Thanksgivings around the table with his mother, father, and two hard-to-please uncles. It's pretty much what you'd expect: Bickering, whining, and feuds over white vs. dark meet . You know, "Just another Brooklyn Thanksgiving."
Think your family's Thanksgivings are worse? Tell us below!
What do you think?