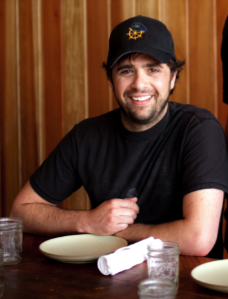 In honor of his participation at the special holiday edition of Heeb Storytelling at MBar in Los Angeles on Monday, December 19, we spoke with Jon Shook, co-owner of two of Los Angeles's most talked about restaurants, Animal and Son of a Gun, about Jewish cuisine, family and the holidays.
How does Animal's location on historic Fairfax Avenue—nestled amidst Canter's Deli, vintage stores and numerous Orthodox synagogues—impact the experience of eating at your restaurant?
Part of the reason Animal came to be is because the owner of our building owns the kosher bakery next door [Schwartz] and didn't want any competitors. So, in our lease it actually says that we can't be kosher. That planted the pork idea in our brains.
Yet you've got your own version of chopped liver and you dabble in pastrami and alligator schnitzel?
As a kid I didn't like chicken liver. The version my mom would make was disgusting. But my mom's not a good cook. So when I tried it later in life prepared well, I realized the stuff is good. Chicken liver is also not expensive. Brisket is cheap. Filet mignon is expensive. Tongues, brains, intestines—the cheap cuts are so affordable. But us Jewish chefs grew up eating that stuff, so we're not afraid it. And our chicken liver is made with duck fat.
Schmaltz.
Yeah. So I guess it's more of a classical approach.
You were brought up Jewish in Florida and your parents have since become Lubavitchers.
Okay, I'm gonna get real deep about this. I was never religious. I was always like 'fuck religion.' But now, as I get older, I'm starting to get more in tune with where I came from. When we were younger we went to Reform temple but my grandparents were always religious and as they started to pass away my parents got more into religion. They started to go on their own adventure. Where they live in Florida, it's either Reform or Chabad. They started to connect more with Chabad and found themselves there. Then they actually went all kosher, and I was like – 'you guys are crazy.' They got super deep into it. But as I've gotten older I've been getting more into religion. Just asking questions though. Like, I can make a mean fucking brisket, but now I'm wondering why do we make this? I'm starting to thirst for this stuff.
So what's your favorite Jewish food?
Blintzes come to mind. And who doesn't like potato latkes? This is what's made me who I am. Passover, Hannukah, eating Chinese on Christmas. But you know what? This year, my girlfriend [actress, Shiri Appleby] and I got a Hannukah bush. Just to see what that's about and ask questions. She's Jewish and her parents are kosher but now her favorite food is honey-baked ham.
And one of your signature dishes is a chocolate covered bacon crunch bar. Ever worry about what your parents think?
When they came out to LA the first time—they were really kosher back then—my dad ate some pork at my restaurant because he was like: 'How can we not participate in what our son's doing?' Now they're a little less religious but still kosher and into Chabad, but when they come to LA they put religion on hold. They say, 'we don't think God would want us to neglect this.'
For more information about Jon Shook's restaurants, go to Animalrestaurant.com and Sonofagunrestaurant.com. For more information about the special holiday edition of Heeb Storytelling go here.
What do you think?