Most children's books teach things like family, friends, and sharing. Franz Kafka wrote strange tales of alienation, conflict, and the meaningful meaningless of existence. That Kafka's stories could be adapted for children seems, on the surface, to be an exercise in futility. And yet, as Matthue Roth's My First Kafka: Runaways, Rodents, and Bugs (One Piece Books, 2013) demonstrates, there's a sense of childlike wonder that permeates even the strangest of Kafka's parables. That's a tricky proposition to pull off effectively –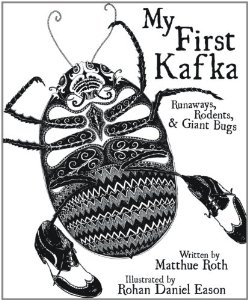 especially for Roth, who is tasked with the unenviable job of transposing Kafka's prose into child-sized morsels. Fortunately for weird kids (and their weird parents) everywhere, Roth is more than up to the task, reconstructing three of Kafka's works into the sort of stories that would fit nicely alongside the Shel Silverstein's stranger works.
If there's a lynchpin in this literary construction, though, it's Rohan Daniel Eason's intricate black and white illustrations; His 'Nobodies' in Kafka's "Excursion into the Mountains" call to mind Maurice Sendak's eponymous "Wild Things", transforming what was originally a passage about Man's isolation into a whimsical adventure with imaginary friends. Similarly, his Gregor Samsa-bug in "Metamorphosis" is at once monstrous and sympathetic; an impressive feat, given that Kafka's entomological magnum opus is one of the most studied pieces of fiction in the modern era.
If My First Kafka has a weakness, it's that it remains to be seen whether Kafka's parables have any appeal to children with no knowledge of the source material. Put it another way – does an appreciation of My First Kafka necessitate prior exposure to Kafka? If so, then this is a book for adults in the guise of kid's stories (see Adam Mansbach's Go The F**k To Sleep). That might not be such a bad thing, considering that, no matter how much carefree whimsey Roth expertly extracts from Kafka's text, the stories are still, at their core, laced with a bittersweet undercurrent of isolation and loneliness (The last story, "Josefine the Singer or, The Mouse People" ends on a particularly sad, albeit beautiful, note).
None of this should discourage you from picking up a copy, though. Rather, My First Kafka should be read, and if necessary, re-visited, to remind us all – children and adults alike – that the world we live in is complicated, and sad, and wonderful, and strange, and ultimately – wide open to interpretation. 

****
For more Matthue Roth, and My First Kafka, visit: www.matthue.com
What do you think?