Text by Laura Leebove
It doesn't take long for sex to come up in my conversation with the Israeli electro-dance band Terry Poison. Maybe it's because most of the group hasn't been having any lately, since the sextet's first trip to the U.S. has been a bit of a whirlwind, to say the least. "You catch us at a moment when we're a bit fragile," warns singer/dancer Louise Kahn, as everyone debates whether or not the band is all about masturbation.
It's nearing the end of New York's CMJ Music Marthon and we're sitting on couches in the lobby of the Tribeca Grand Hotel, where the Terry Poison will perform late that night. (I wasn't able to catch the show, but producer/synth guitar and bass player Idan "Bruno" Grife told me afterward via e-mail that it was "dope.") Terry Poison's couple of planned shows—including Heeb's party on October 21—led to a total of five gigs and a few offers from record labels to release its debut LP, which is already out in Israel. "People came up to us after the show asking from what world did we come from, and that they wanted more," says Gili Sa'ar, who plays keyboards and keytar.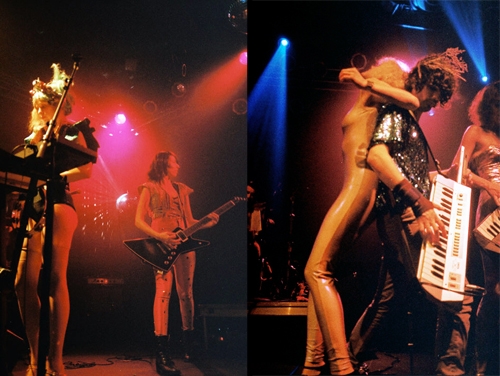 Terry Poison has already conquered Israel and Europe with its wild brand of bleepy, sometimes-raunchy, electronic-fueled party music, and the U.S. is next on the group's agenda. "There's really no way to take it forward [in Israel] because there's not more people," says Grife. And he's not kidding: In its homeland, the band's already got three radio hits; song placement in TV shows and in advertisements for one of the country's biggest clothing companies; and has a sponsorship from El Al, the Israeli airline, which allows them to fly for free. "Our bookers are telling us, 'You played already twice this month in Tel Aviv. You can't perform anymore, everybody's seen it already,'" says Sa'ar.
All the band's music is recorded in English and some French, which Kahn says helps with the international appeal. "We all grew up on MTV and VH1," she says. "We hear the same music as you, so this pressure from the national radio stations to write only in Hebrew, we just say fuck it—we want to get everywhere." The group's outrageous sense of style surely has played a role in doing just that, and in Israel the band has two stylists who help bring out each member's personality in their outfits. "We're being ourselves but more extreme," says guitarist Anna Landsman.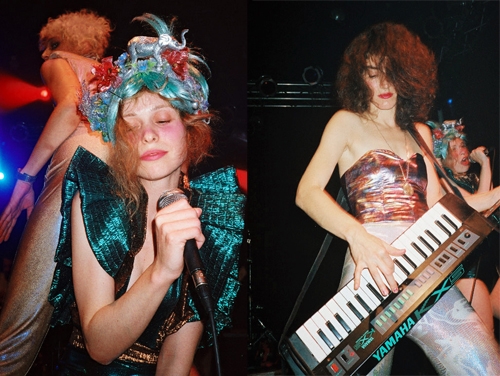 When asked why the music itself works so well in other countries, Sa'ar says it's "a mixture of electronic beats, the bass—the music that you can't stay indifferent to. What you can see while you're listening to the music is crazy styling, crazy dancing, jumping girls, a gay icon onstage—that's Bruno" (for the record, ladies, both the guys in the band are straight). Keyboardist/French vocalist Sivan "Petite" Meller's explanation is a little more concise: "ass shaking." "As a band you can see we're having fun," says drummer Issar Tennenbaum. "If the band has fun on stage you can't ignore it."
For now, the group is looking to settle in New York or L.A. in hopes that it can help put Israel in a better light in the U.S. and elsewhere. "It makes it look more like there are normal things going on [in Israel]," says Kahn. "The left press, usually in Europe, is very anti-Israel, and we have had a lot of press there about us—not anti-Israel, but about culture, and this is very important because it shows that, wow, there's an electro band making contemporary music—that also happens in France! It puts you into normalizing the situation of it. And it makes it connect."
What do you think?