No longer the purview of trekkies and 2Pac, plans are underway to introduce holograms to the wide world of…classic comedy?
That, at least, is the plan, according to the National Comedy Center. The Jamestown, NY-based center is currently in talks with estates of deceased comedy legends such as Joan Rivers, Rodney Dangerfield, and Richard Pryor in order to license their likenesses and put the stand-ups back on stage, if only as incorporeal laser projections.
Journey Gunderson, the Center's director, explains in Newsweek:
"It will be more like the intimacy of some of the greatest comedy clubs. It'll be a small space that seats about 60 people. Some of the greatest comedy performances happen on stages in intimate basement clubs and small venues. That's the feel we are re-creating."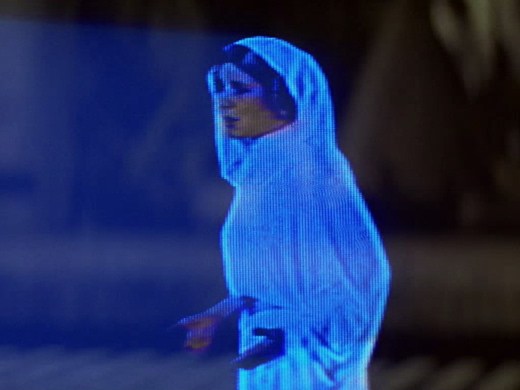 Stand-up, though, is a wholly organic art, with pauses and improvisation as crucial to it as they are to jazz. With that in mind, pre-programmed holographic comedy seems doomed to plunge deep in the uncanny valley of awkwardly stiff failure. It's a reality that isn't lost on Hologram USA CEO Alki David. David, whose company manages the holographic tech responsible for bringing the dead comics to life, is looking into using live-action modeling to direct the hologram through its pre-recorded routines, allowing it the capacity to respond to unexpected stimuli. He explains:
"They could be heckling. They can delay a punch line. It's a real-time and real interactive experience. Not every show will be the same."
Think about that for a second? Rather than see a Rodney Dangerfield impersonator, you could be seeing a Rodney Dangerfield hologram, being run by a Rodney Dangerfield impersonator.
The exhibit plans to market the holographic comics through pay-per-view events, and even is exploring whether to give sponsors access to the holographic comic's on-stage wardrobe (because doesn't everyone want to see a comic who's been dead for years wearing this season's hottest fashion?)
The exhibit is scheduled to open in the summer of 2016. Presumably the Center will spend the coming year focusing on the painstaking digital process necessary to faithfully recreate every holographic detail of Milton Berle's legendary penis.
What do you think?