Look, I've got nothing really against Madonna's (ehrm, sorry, "Esther's") embrace of Kabbalah-ish Judaism – Truth be told, I find it far less annoying than her faux British accent. Sure, it's not like Madge is showing up to synagogue every Saturday to read Torah, but hey – neither are most of us, so y'know what? If she wants to consider herself Jewish-ish, and she isn't hurting anyone, fine. Let her wear a red string around her wrist, and toss a little Hebrew into her conversations. As long as she doesn't try to dissuade anyone else from doing their own Jewish thing their own way, I'm content to leave her be.
But, this? This is not helping.
Shabbat Shalom from this #rebelheartpic.twitter.com/d5C0IIuP4e

— Madonna (@Madonna) January 2, 2015
Allow me to explain. "Rebel Heart" is the name of Madonna's upcoming album, tracks from which were leaked in late 2014, prompting Madonna to claim "artist rape" (oof, Madge, no.) and bump up the release date of the full record. So far seven of the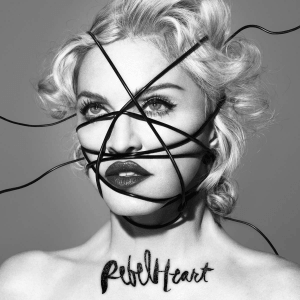 album's 19 tracks have been revealed, including lead single "Living For Love" – the same "Living For Love" plastered across Madonna's totally-heartfelt, not-at-all-commercially-motivated Shabbat Shalom tweet.
Yeah, Madonna just blasted her 500K twitter followers with a Shabbat-themed ad for her new album. (Who knows? Tracks like "Unapologetic Bitch," or "Bitch I'm Madonna" [ft. Nicki Minaj!] might actually make for bangin' Sabbath tunes?)
But wait, it gets better. Or, worse. Both, I suppose.
Madonna's Shabbat-y commercial comes at the heels of a triptych of hashtag-RebelHeart tweets, each featuring portraits of famous black men photoshopped to match the Rebel Heart album cover art.
Here's Bob Marley:
This #rebelheart sang about ONE LOVE! pic.twitter.com/7RGdpL4yzy

— Madonna (@Madonna) January 2, 2015
Here's Martin Luther King Jr:
This #rebelheart had a dream! pic.twitter.com/PIwcwosS2G — Madonna (@Madonna) January 2, 2015
And here's Nelson Mandela:
This #rebelheart fought for freedom! pic.twitter.com/7OxGT28TuY

— Madonna (@Madonna) January 2, 2015
Your guess as to what these three guys (okay, two guys – fellow musician Marley kind of makes sense, I suppose) have to do with hocking Madonna's "Rebel Heart" album is as good as mine. Oh, and did I mention Jesus? Yeah, Jesus. A few days ago Madge drafted the lamb of god into her "sell my album" hashtag game, too.
One of the first #rebelhearts !!! #iconicpic.twitter.com/abvEf4Ws2J

— Madonna (@Madonna) December 31, 2014
And that's my real problem with Madonna's Shabbat Shalom tweet. It's not simply that she's dragging her already-shaky Jewish bona-fides into her album's ad campaign. It's that she's doing so as part of a larger (presumably calculated) marketing plan – one  which aims to frame Madge as being on par with the world's most significant civil rights leader, international peace icon, and Jesus fucking Christ ("See everyone, we're all #RebelHearts! Nelson, Martin, Jesus and me!").
You wanna wish folks a "Shabbat Shalom" Madonna? I'm all for it. But don't try to shoehorn your self-serving, appropriative hashtag nonsense into my sabbath. I'm more of a Cyndi Lauper guy, anyways.
[h/t Andy Khouri]
What do you think?