Comedy is all about being "in the moment" – A joke (hopefully) lands, people laugh, and it's on to the next one. Boom, boom, boom. Photography, on the other hand, is the opposite – a single moment snatched out of time, and frozen forever. Combining the two is tricky; it takes a photographers eye, coupled with a comic's sense of timing – characteristics which are rare commodities in and of themselves.
That's why we're kvelling over Funny Business, a new project from photographer (and former Heeb photo editor) Seth Olenick. Funny Business is a photo book featuring 200 portraits and pictures of comedy's brightest stars, as well as the latest crop of comedic up-and-comers; From alt-comedy pioneers to major motion picture stars, Funny Business is a who's who of who's funny, rendered in 250 glossy pages. It's an ambitious project, years in the making. As Seth explains:

In 2003, my photo and comedy worlds collided at Lansky Lounge on the Lower East Side of Manhattan.  It was there that I had the opportunity to photograph comedian Todd Barry hosting Heeb Storytelling, a series put on by Heeb, the magazine for which I was Photo Editor.  Being that this was my first experience photographing live comedy (I had only photographed live bands up to that point), I had an epiphany.  And so began the long journey that led me to this next phase of my photo career – photographing comedians.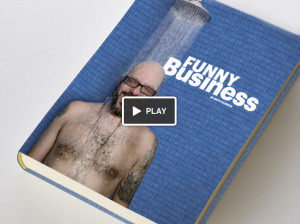 Like most things these days, Funny Business doesn't come cheap. That's why Olenick has set up a Kickstarter to help fund the production and first-edition run of the book. To sweeten the pot, Seth is offering some pretty outstanding rewards, including signed prints and props; At the higher levels of funding you'll receive a song written about you by members indie-rock icons Les Savy Fav, or the opportunity to have dinner with comics Bobby Tisdale and Eugene Mirman. Hurry, though. Seth's kickstarter campaign ends March 11th!
Here's just a glimpse of what you'll find in Funny Business. If you like what you see, head to Seth's kickstarter and toss him a few shekles. Because, as it turns out, Funny Business is serious work.
What do you think?