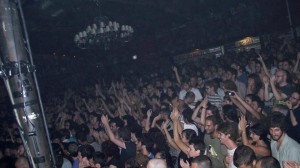 By Sheri Barclay and RafiSS
Most people know neo-psychedelic indie rockers The Brian Jonestown Massacre from the critically acclaimed documentary DIG!, which highlights the band repeatedly snatching defeat from the jaws of victory by way of substance abuse, in-fighting, and singer/genius/enfant terrible Anton Newcombe's inability to get the fuck out of his own way.
But, when BJM played their sold out show at the legendary Barby Tel Aviv (Naranjah promotions), you'd think they were rock and roll royalty the likes of… oh, I don't know… Guns N Roses? Seemingly every hipster from the Jordan River to the Mediterranean was there, as was Heeb's own Sheri Barclay who braved the Barby's security checkpoints ("I swear it was Sheri plus one!") and Steve Perry-obsessed headliners for this Heeb exclusive.
What do you think?