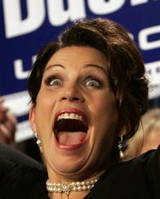 Congregants at Chicago's Anshe Emet synagogue were treated to a surprise when Congresswoman Michelle Bachmann walked through the doors… in the middle of Yom Kippur services. While it's unclear why Bachmann (R-MN) – a devout evangelical Christian – would choose to visit a Conservative synagogue on the holiest day of the Jewish calendar, The Chicago Tribune reports she was nonetheless welcomed by Rabbi Michael Siegel, as is customary in that congregation.
Bachmann, known for years in Minnesota as being, well, special, stumbled into the national spotlight during the 2012 presidential election where she set the tone for the dignified, totally un-cringe-worthy GOP primary. Here is Congresswoman Bachmann, a state senator at the time, spying on a Gay Rights rally by hiding in the bushes:
Despite Yom Kippur's emphasis on atonement and forgiveness, not everyone at Anshe Emet was happy to see the Congresswoman (presumably there's some residual resentment over her epic mispronunciation of "chutzpa"). Chicagoist reports congregant Gary Sircus was so incensed that he put his money where his mouth is – the campaign coffers of Bachman congressional opponent Jim Graves.
Michele Bachman's at Anshe Emet for Kol Nidre.In honor of this unholy person being in my synagogue, I've made a contribution to Jim Graves

— Gary Sircus (@gsircus) September 26, 2012
Despite no word from the Bachmann campaign as to why the congresswoman was compelled to go to synagogue, the Tribune reports at least one concrete outcome from Michelle's visit – a "400 percent uptick in donations [to Bachmann opponent Jim Graves' campaign] from the Chicago area last week."
What do you think?