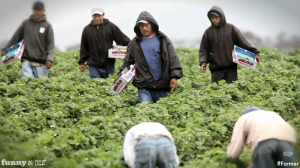 We all saw that Dodge Ram "God Made Farmers" commercial on Superbowl Sunday. Some of us may even have teared up a little, felt confused about why we teared up, and reasoned it's because they were probably sitting eating mass produced junk food on a comfortable couch while those other schmos labored in fields. Then again, some of us figured it was probably because Dodge, using the voice of broadcasting legend Paul Harvey, was being a tab bit manipulative. So we asked, "When is God going to invent honest advertising?"
And at some point, God created comedian Nick Wiger, who, with Funny or Die, in turn created a commercial parody. And as parody tends to be, it is many times more honest than most other forms of art, and an unfathomable amount of times more honest than advertising.
Note: I don't care that the Clydesdale ad was manipulative. Sometimes it just feels good to cry over a man and his horse. And that Bar Refaeli/Nerd ad? The less said, the better.
What do you think?