It was an utter outsider, Brian Epstein, a deeply-closeted gay Jew from unhip Liverpool, who took the Beatles, an unknown local band, and managed them with the love of a nurturing mama, to international stardom. Not-so-ironically, Epstein's story, has been mostly closeted itself, until the recent release of the beautifully constructed graphic novel The Fifth Beatle, now the only book in print about Epstein and his involvement with The Beatles. This tantalizing true story is a must-read not just for Beatles fans, but for the queer community, those interested in the history of Jews in the music biz, and anyone who just digs a solid-yet-surreal story of an outsider's rise to success, and tragic eventual undoing.  HEEB spoke with writer / producer Vivek J. Tiwary about the inspiration behind the book, the twenty-one year process that brought it into existence, and the concurrent development of the story into a film, which is the first ever to have secured rights to use actual Beatles music.  We also scored an exclusive interview with film producer Bruce Cohen (American Beauty, Milk, Big Fish), who will be co-producing the movie. And, stop the presses: just yesterday twas announced that Peyton Reed (The Break-Up, Bring It On) will be directing.
What compelled you to tell  this story?
Vivek J. Tiwary: I've been researching The Brian Epstein story for literally over half my life. When I was in business school twenty-one years ago; I thought, "If I'm going for a career in the 'industry,' I better study the lives of the great impresarios. Having grown up a huge Beatles fan, I knew about Brian and how he and the boys wrote and rewrote the rules as a team. So I decided to study Brian, his life and how he managed the band. Twenty-one years ago!  No Wikipedia, no YouTube, no Internet! There were and still are no books about Brian Epstein in print!  Nothing was available! You could walk into a bookstore and find a book about John Lennon's astrologist, but not a one about the guy that discovered and guided the band to unprecedented stardom!
So I got my hands on every respected Beatles book I could. A two-hundred page book would include maybe five good pages about Brian. After devouring many, just five Brian-related pages in each added up, and I began to piece together who the players were in Brian's life, so I could find out more. I realized Nat Weiss, a lawyer for the Beatles, was key, and Joanne Petersen, Brian's personal assistant (the basis for the book's "Moxie").  And Sid Bernstein, the promoter who brought the Beatles to the US.  So I called them and then some. I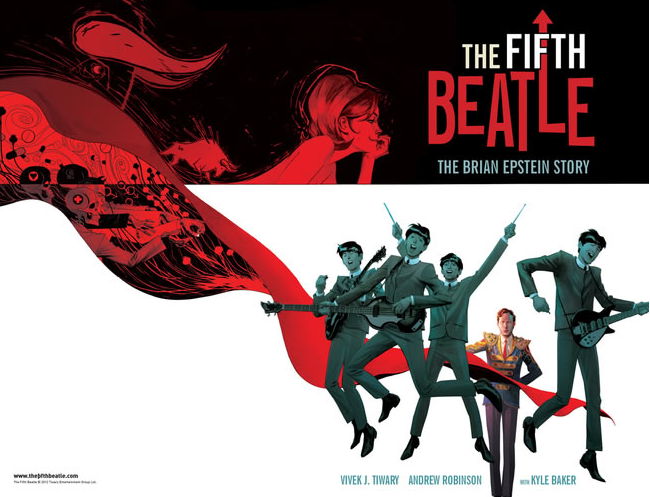 wasn't writing a screenplay or a graphic novel, I was just looking for inspiration. After seeing I was genuine, inspired, and just looking to learn from Brian, they all opened up to me, super warm and welcoming. Really the heart of this book came through that firsthand research. I spent a lot of time with Sid, who shared Brian's Jewish cultural heritage, he was very illuminating about that.
I started out wanting a business blueprint, needing to know how Brian got them a record deal when no one wanted to sign them, how he thought of the suits and the haircuts, and how he convinced Ed Sullivan to book a British band. And I got all that, and it's a great story that's all in the book, BUT, it was the human story, his being three times an outsider — Gay when it was illegal, Jewish in a time & place rife with antisemitism, and from Liverpool, not a town known as a beacon of culture.  That really struck a chord for me.  For this nobody Brian to run around saying, "I found a local band and they're gonna be bigger than Elvis!" It was ludicrous!  He was, in my mind, the least likely guy to succeed in his chosen field, which was music management. Compared to Brian, I've lived a charmed life. However, I did connect to that outsider-ness. As part of a first generation American family from Guyana, by way of India, trying to make it in film, television, graphic novels, Broadway, I feel like an outsider. With the exception of Bollywood, you just don't see people of my ethnicity working in these fields.
So, for me to see this Jewish gay man exposing the world to one of the greatest pop cultural icons of all time, that inspired me as a young man of Indian origin, that I too can change the world through entertainment if I just pursue my dreams, and have persistence, don't take "no" for an answer.
Bruce Cohen: Like the rest of the world I've been a Beatles fan since I was a kid. My parents played Sgt. Pepper's when I was seven or eight and we'd march around the house. I had become aware over the years of Brian Epstein. So I knew that he was a fascinating figure that was responsible in large part for the Beatles' success, and I also knew was a gay man at a time when he couldn't really be gay and he had struggled with that. So I was very interested when Vivek approached me and pitched me the story and asked me if he could send me the script and the graphic novel. But I didn't really know the details of both Brian's incredible way that he helped and supported and in some sense was responsible for the Beatles, and also all of his personal struggles… so when I read the graphic novel and the script, I just felt like it was a movie that I definitely needed to be a part of helping get made.
What makes now the perfect time to tell this story?
Vivek: Six years ago, in the wake of having successfully produced A Raisin In the Sun starring Sean "P Diddy" Combs, on Broadway, a classic piece of African American literature, I decided it was time. When I started that project, much like Brian trying to get the Beatles signed, everybody told me, "African Americans don't go to Broadway, kids don't go to Broadway, you're crazy." I thought, "Ludicrous! If they're not coming, it's because there's nothing they want to see!" If you give them something they want to see, and make sure they know about it…  I knew our audience wasn't necessarily reading The New York Times, so we promoted like a hip hop record; we went to the right radio stations and the right magazines. The play did tremendously well, I was very proud of it. And it was a revival. When done, I decided I want to tell a new story next. And when I asked myself, "Well, what?" I knew it was The Brian Epstein Story, that I'd been carrying around, cherishing, for fifteen years. I'd heard stories about Brian that no one else had heard; I had a wealth of knowledge about this guy, and it's a rare, untold Beatles story.
So I circled back to those who had been so kind as to give me the educational interviews, many of whom had become friends, and I said, "back then I wasn't looking to do anything professionally, but now I want to tell this story." And they said, "That's great, you're the person to tell it, what else can we do to help?" So I set about doing it.
"Why now?" I'm obviously so inspired by this guy, and I would love to say, "His story should have been told thirty years ago!" but now, is a special time for this story. This year marriage equality was passed in many states, and Brian couldn't have imagined even having a boyfriend, much less getting married! And just a few years ago, Liverpool was voted European Capital of Culture.
We now live in a world more open to hearing this story. That's part of why I think I can tell it, I think it's also a part of why some of these people who I interviewed are comfortable with it being told. Even long after Brian passed away and laws may have changed, it certainly wasn't socially acceptable. But now they're realizing, "You know what? Maybe the world is ready." And on a much blunter level, a lot of these folks aren't getting younger. Sid Bernstein and Nat Weiss both died in the past couple of months.
Bruce: I think the headline for that is, "Because It Hasn't Been Told Before." I think that's lucky for us 'cause it's an untold story. But I also do think that stories of how hard it was to be yourself in the past are always important to continue to be told, both to consider how lucky we are in the present, but also to consider how far we have to go as well. And then, above and beyond the political side, I also think that keeping the message of The Beatles alive,  who they were and what their music meant to the world and what it will continue to mean to future generations is always great to do. If we can be a part of that, of bringing The Beatles to a new generation who may not be as familiar with them as we were, then I think that's awesome also.
How did the piece develop from idea to finished product?
Vivek: I worked on this book for seven years. When I first started thinking about structuring The Brian Epstein Story, it all came into my head as a color palette. It starts in 1951 Liverpool, which to me was dark, industrial, rainy, it felt very black and white. The story ends in 1967 London, which, we're about to enter the Summer of Love, the psychedelic era, very technicolor. It felt to me that the story of Brian Epstein, or the last seven years of his life, is also the story of the movement from black and white to technicolor. To me that just screams graphic novel and film, two very visual mediums.
So I set about developing both at the same time, and because the film is in development right now, and the book is out — movies do take longer– the film will be adapted from the graphic novel. I wrote a screenplay and it is in largely based on the graphic novel, but not just that.
When you look at the finished book, what moment in Brian's story hits you the hardest?
Vivek: When Brian meets with Colonel Tom Parker, Elvis Presley's manager. It encapsulates everything. It shows how different Brian is from the other 'most successful manager in the entire world.' The Colonel makes fun of his Judaism, of his homosexuality, he's crass, he's all about money. He ruthlessly refers to his act as "a piece of entertainment" where Brian talks misty-eyed about artistry. And you also see Brian desperately wanting not just business advice, but wanting a friend, a peer. But this guy was neither. I think it was probably a moment where Brian realized, "Wow, I am at the top and there really is no one else I can relate to."
What's the biggest challenge in taking on biography / history VS. fiction? Is anything easier about it?
Vivek: Not only am I dealing with history here but with beloved cultural icons, beloved by Beatles fans like myself. And also a subject matter for which there are a lot self-declared "historians" out there, people who think they know everything, and a great number do know everything. So this book will be really scrutinized in a lot of ways. That said, I rarely felt pressure. The whole process was just joyful. Because this is a labor of love, I am that guy, I am that anal guy who will notice in advance that certain things are inaccurate, and I wanted to make sure that I got it all as "right" as can be.
I can answer very definitively every single place where I've made a change. When Beatles fans point it out I can say, "Yeah I knew that, and here's why I did that." So there are a great number of places where Beatles historians will notice some inaccuracies or some creative licenses, and I hope that the ones who will read the book to its conclusion will walk away saying "Aha! That writer, he knew what he was doing. I see why he did that." And Andrew Robinson, the artist, will tell you it was very important for him to capture the architecture and the faces and the wardrobe. We did endless amounts of research and photographic references to make sure that Andrew did his job properly. He spent four years painting this book and it shows.  The artwork is breathtaking, and if you really study the pages, he got it right. He nailed it.
How did you, the writer, and Andrew, the artist, work together?
Vivek: Andrew is an amazing artist, and for that reason alone that he was the right guy for the book. However, Andrew was also very collaborative, which, this being my first graphic novel, was important. I had read graphic novel scripts and was comfortable with the format, but had never written one. And there were sequences in my script where I was very specific, "I want this color palette, this camera angle, this number of panels. This is exactly how I want it to look, here's a photo reference." And Andrew was totally comfortable to go along, or sometimes he'd say, "Hey, here's another idea, but I'm happy to give you exactly what you want if that's what you want." And then there were other sequences where I said, "Here's the scene, here's the dialogue, here's the tone. Here's the emotional impact for the character, here's what they're feeling." And Andrew would say, "Great! Here's how we do it."
And there's also the Philippines sequence drawn by Kyle Baker. I've known Kyle for many years because he's a fellow New Yorker. I had a feeling that he would be a Beatles fan, and I knew that I wanted that chaotic sequence to pay homage to the Beatles cartoons of the 1960s. And sure enough, he was a huge Beatles fan, who grew up re-watching those cartoons, and so yeah, he was all over it, and also nailed it.
Epstein clearly suffered on account of being Gay. Did he also encounter anti-semitism? Was being Jewish was a big party of his identity?
Vivek: It was a significant obstacle. But probably secondary to his homosexuality because being gay was actually against the law. While there was anti-semitism in the UK, it wasn't illegal to be Jewish. The music industry was, and in many ways still is, a little club, of people all who know each other. And in those days, Jews didn't work in the entertainment industry. It was ludicrous for a guy whose last name was "Bernstein" to suggest he's gonna put The Beatles, a British band, into Carnegie Hall. But these guys were trailblazers. And I think that for Brian, it was important for him to show that world that an "Epstein" could make this kind of impact. Everybody that he sat down with in the music industry, because he was Jewish –no one knew he was gay — but they knew he was Jewish, told him "You don't belong in the business. Go back to Liverpool."
The Beatles play a supporting role here. How did you decide the balance of how much they should appear? 
Vivek: That was very tricky. Brian was involved in a lot of great Beatles stories, many little behind the scenes moments, "cool Beatles stories," but at the end of the day this is The Brian Epstein Story. I wanted to keep the book this length, around 130 pages, so that it wasn't daunting for the casually interested. Because I really do think that if you're a Beatles fan, you're in for a special treat with this book. It does have a lot of untold Beatles stories, and a lot of cool "in" jokes. However, it is at its heart not a Beatles story. It's an inspirational human story. It was crucial to pick Beatles moments that were integral to Brian's story. "All You Need Is Love" is the most obvious; here he is, exposing the world, 400 million people, a record-breaking television viewership, to the message and music "All You Need Is Love," — meanwhile he's alone at home, lonely, because it's against the law for him to have a boyfriend.
How will the film differ from the graphic novel?
Vivek: We have music rights, so we'll have a lot of music sequences in the film that would be very boring on the page, but with music will be very dynamic. There's just a lot of things that I think work in a visual medium where you have motion that you can't do in a visual medium where you're relying on sequential art.
The film will allow us to do certain things that we weren't able to do in the book, and the book achieves things we won't be able to do in the film. And that if you really love this story and  you're really inspired by it, you should experience both and you will get something different from each experience.
Bruce: In many ways, they're similar in tone and in story. But any time you switch mediums, it's also the fun part of taking something that was in one medium and switching it to another. It's always this exciting combination of some of it's exactly the same, and some of it's completely different. What I have learned from past experiences and will certainly bring to this one, is you really need to give yourself freedom to let the graphic novel go, and let the film be its own complete, unique, new work. Because at the end of the day a film is very different. So you have all these decisions along the way where you need to give yourself the freedom to make the best decisions for the movie.
Fifth Beatle is the first film to get rights to actual Beatles music. How did you pull that off?!?
Bruce: I have to give all the credit to Vivek. He really worked on that over many years before I became involved. The Beatles and Sony, who controls their live rate, they've licensed Beatles music to non-Beatles related film and television in the past, but they've never given to music to anything about The Beatles. And so it's a very exciting coup that we take the responsibility of very seriously. We really believe that the reason why we were the first is because of Brian Epstein. That The Beatles's love for him and respect for him, they felt like if this was a project that the Brian Epstein family and estate were supporting, which they are, and that this was a chance for Brian Epstein's story to finally get told, that The Beatles and The Beatles estates, they wanted to support that and be a part of it. So we feel we're the really lucky recipients of that love for Brian.
Vivek: The short answer is persistence, and persistence I learned from Brian Epstein. In much the same way that he was turned down by everybody and he just wouldn't take no for an answer, I just would not take no for an answer. And I literally have three rejection letters on my desk. Some of them from Apple Corps, from the Beatles's company, saying, "Thanks for your inquiry and the answer is no." And I was like, "Okay, this mid level guy or gal said no, I've gotta get to their boss. And their boss said 'No?' I've gotta get to their boss! Oh, I've gotta get to Paul and Ringo and Yoko and Olivia? Okay, then that's what I need to do!"
It took me two and a half years. I just believed this story needed to be told, and was one that if I could get to the right gate-keepers, they would understand why it would be important to add that element to it. And they did!
Tell us about your partnership with Freedom To Marry.
Vivek: I have been involved with the organization for about a decade, long before I was working on The Fifth Beatle. When my wife and I got married eight and a half years ago we asked en lieu of wedding presents, for donations to Freedom to Marry. We made a toast to Freedom to Marry at our wedding. It was hard for us, being in love and planning our wedding and having a great number of gay friends, many of whom had been together longer than we had, and they were being told it was against the law for them to get married. We wanted to do something to help. So Freedom to Marry and this issue has been important to me for a long time.
I wanted people when they finished the book hopefully to walk away feeling inspired to chase their dreams and make a difference, and so I thought, "Well let me give you one idea. Here's 'The Freedom to Marry' and something you can do. You can go to this web address and make a five dollar donation, or spread the word on an organization that, if it had existed, could have changed everything for Brian."
Will the film have a partnership with Freedom to Marry as well?
Bruce: That's certainly the hope. Because the film doesn't quite exist yet other than in our firm dreams. But our hope is that we would try and explore a further collaboration with Freedom to Marry on the film as well.
You can pick up a copy of The Fifth Beatle in stores now. Stay tuned for more info about the developing film, and check out the graphic novel's trailer here:
What do you think?