By Adam Menceles
Chris Verene (far left) is a photographer, musician and self-proclaimed over-educated art professor. He wants to be your wedding photographer and drum teacher. He plays with his wife Ani in the Latin dance rock band Cordero and "knows people" who can vouch for him in most major New York City art galleries. We figured you should know him too.
What was your first love, art or music, or did they both hit you at once?
I think my first love was music. I didn't know that art was doing anything for me, although at eight years old I did a research paper about the Florentine artist Ucello, a painter who worked just before artists understood how perspective works. The first record I remember having was a self-released '45 that one of my dad's students made with his original song "When You Walk By The Sea" on side A and "Hava Nagila" on B. My dad is a philosopher and religion teacher, so I was raised without any organized religion, but with parts of many. I think the thing I liked about music was that one could participate in it, singing along, drumming along, 'being' the music.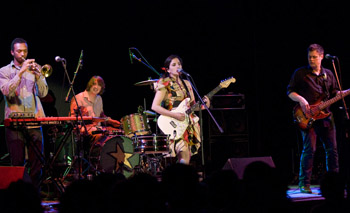 Tell me about Cordero. I know your wife Ani started the band in Tucson, then moved to New York. When and how did you get involved?
I got involved because Ani and I were both drummers, and she was stretching out to guitar and she needed a drummer. She had been working with Brendan O'Brian (Springsteen, Bob Dylan, Pearl Jam) and I was impressed with this…And I was crazy about Ani. I would have played in any band she asked me to. I joined in 2000, when she had moved the band from Tucson. In Tucson the band was mostly recording with members of Calexico and Giant Sand. In NYC we made a band for the stage. We're a latin-dance-rock-indie band, with Omar Little on keys/trumpet (nephew of "Why do Fools Fall In Love" Frankie Lymon) and Eric Eble on bass (ex-Half Japanese, Ried Paley Trio, ex-Heroine Sheiks).
In terms of visual art, what forms are you known for in your professional career?
I am known as a documentary photographer, mostly for a life-long project about my family in the rural Midwest – 26 years on the project so far. Nowadays people have come to know me as a performance artist via the unexplainable serial performance work, 'The Self-Esteem Salon.'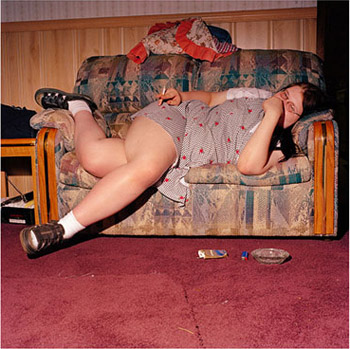 Crystal at Eighteen, 2003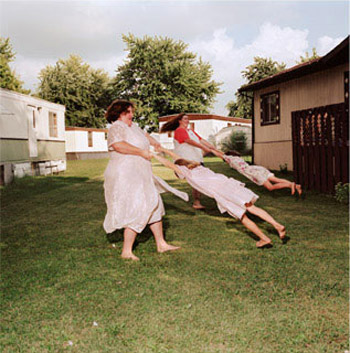 My Twin Cousin's Husband's Brother's Cousin's Cousins, 2003
What creative process do you go through when performing/creating music and art?
For visual art I guess you could say I get a very, very distinct vision in my head or 'mind's eye,' which is the whole finished product. I can see it all wrapped up and finished years before it's done. I have always had oddly magical pre-visions of my work. The music part is just showing up to band practice sober.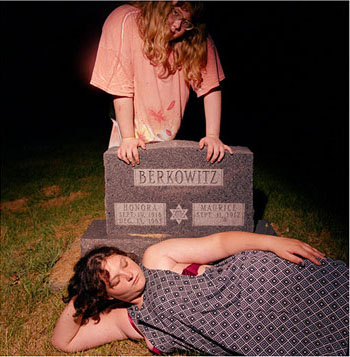 Jewish Witches, 1997
What sort of art inspired you when you were younger?
When I was very young (9-10 years), I was into my parents locked book cabinet (it had windows, so you could see the books). Anyway, I picked the lock (I was also studying Houdini – he's my ultimate hero) and I discovered Diane Arbus. I was very into her pictures and her people. I thought they were awesome, not funny or bad or creepy – I thought they were champions, I loved them. I was into Arbus from a genuine uncluttered point of view as a child.
Rozie and her new cart, Mae Roze, 2001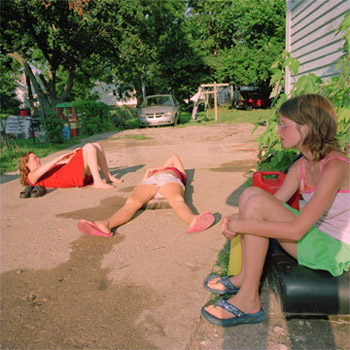 Becca, Autumn and Destiny, 2003
What kind of music were you listening to in your teens and twenties? Did you have favourite musicians?
As a teen I was in a band – you MUST check it out because it's great and still together (D.Q.E./Grace Braun). Google it and check it out. 'But Me I Fell Down' was the last CD I played on with DQE. Also, Grace Braun's 'It won't hurt' on Rykodisc/Slowriver Records is awesome.
What's been keeping you busy lately? Aside from the art and music, I hear you've done some lecturing and teaching as well.
Man, I am looking for a job. Anyone need an overeducated MFA art professor with 15 years of teaching experience? A drum teacher? An amazing wedding photographer? Family portraits? I'm the best. I have references at The Whitney, The Met, The Jewish Museum, The SF MoMA. Ask anyone! They can recommend me for your wedding or family pictures.
Cordero plays with DeLeon tonight at Mercury Lounge in New York City. Chris Verene's forthcoming monograph, Family (Twin Palms Press) hits this fall.
What do you think?