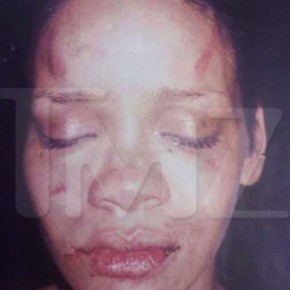 The impossible happened. Today, Vulture revealed that singer Chris Brown and ex-girlfriend Rihanna released not one, but two collaborations titled "Birthday Cake" and "Turn Up The Music" respectively. This could be the lowest cultural point in music history since the relationship of Ike and Tina Turner.
Two years ago, Brown and his then-girlfriend Rihanna were driving together when an argument ensued. Brown pulled the car over and then unleashed a physical assault so reprehensible and unforgivable that it included a choke-hold, multiple punches to the face and ribs, and, incredibly enough, borderline cannibalistic biting. Think about the unadulterated rage living inside of Brown, so all consuming that he never considered bruising the face of one of world's most popular and most visible vocalists as a bad idea.
Now two years later, after the rumors of their reuniting have been substantiated, the conversation happening all over the Internet is both a bit confusing and very unfortunate. There are those that think beating a woman is something to make light of: the night of Brown's Grammy performance, Twitter blew up with women inviting Brown to beat them, too. Have we reached a low point yet, Society? Then there are those that think Rihanna and Brown have a right to move on with their lives and if they make the choice to rekindle, then let it be. In fact, just moments ago, someone wrote to me in an email "I think survivors of violence should be allowed to make whatever decisions they want. Being beaten is a terrible experience. Whatever you need to do to process that and move forward is your prerogative as a survivor." Rihanna should probably get used to her "survivor" title then.
I understand that major couple drama between two narcissistic performers is far from being analogous to the Holocaust, but when discussing today's news with a fellow staff member, he said he couldn't help but think of "survivor guilt." "Does going back into an abusive relationship even make one a "survivor" anymore?" he asked. And it's a point worth thinking about. Does Rihanna running back to Brown make our sympathies all for naught in retrospect. Does subjecting oneself to potential danger, danger that she or he is already familiar with, make that person less of a victim, and more of a masochist? "My own mind wanders to the Holocaust," he continued. "I can't help but think of the episode of Curb Your Enthusiasm where Larry brings together a Holocaust survivor and a dude who was on the TV show Survivor, and they battled out who was the real survivor. My mind leans in that direction; that there is something ludicrous to think that one can actually "survive" something so brutal."
But what about the songs themselves? Rihanna's track "Birthday Cake," which is as hyper-sexual as it is mediocre, eerily calls for Brown to "blow her candles out" and "I know you want to bite this." Surely I can't be alone in being incredibly uncomfortable with all of this. Brown's "Turn Up The Music," in contrast, is lighthearted and thematically unthreatening, but the underlying message is very clear. Men can get away with anything.
Rihanna's capacity to forgive Brown for the monstrous beating he delivered to every inch of her body unsettles me as a parent, as a human, as a man who thinks hitting a woman is always wrong. It's the way that we, as a society, are allowing for this to happen. It's the way that her peers are not coming forth to disapprove or deliver a message of enlightenment and hope to Rihanna's millions of fans. It's the way that the Grammy Executive Producer Ken Ehrlich said "I think people deserve a second chance, you know. If you'll note, he has not been on the Grammys for the past few years and it may have taken us a while to kind of get over the fact that we were the victim of what happened." Yes, that we were the victims of what happened.
Something is fundamentally broken. One, that we can accept women beaters back into society despite the fact that they have not really taken the time off to seek true therapy. Keep in mind that Brown started work on his fourth album two months after he went rabid dog on his girlfriend. Why did his label think it was appropriate for him to get right back to work? What kind of message did that send to his fans and to Brown himself?
Two, I'm so tired of the retort that celebrities don't choose to be role models. It's unfortunately not a choice. I don't expect Brown and Rihanna to know any better–they're kids–but shame on the industry people around them for, if not dissuading them, bringing them to a more socially responsible place where this whole scenario culminates into a healthy message and pure resolve.
I find it disquieting that Brown's Twitter profile proclaims "IM JUST MEEEE!FRESH IZ A WAY OF LIFE..so everyday is a new beginning." Maybe it's an over-think, but I see a guilt-free criminal asking that we accept him for who he is–a troubled and raging individual–asserting that he's starting fresh with a new slate he hasn't really earned. Everyday is a new beginning, the abuser tells the abused. Just come back. It won't happen again.
What do you think?