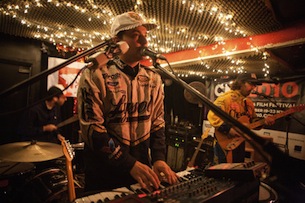 Don't let the ironic and referential name fool you–Detroit, Michigan's Dale Earnhardt Jr. Jr.'s music wouldn't necessarily appeal to the NASCAR set. Consisting of the songwriting core Josh Epstein (Jew) and Daniel Zott (not Jew), the band releases it's first album of shimmering indie pop on June 7 titled It's A Corporate World. These aren't the sort of songs you'll be hearing on the Days of Thunder II soundtrack any time soon (if only they would greenlight that movie…!). Rather, they're sweetened odes to joy, summer anthems of love, and confessions of longing for a simple girl. Old fashioned pop like Brian Wilson and Paul McCartney used to make.
And just a few days before the album release, Epstein pulled over to the curb long enough to answer our questions about his preferred bagel, the Jr. in "Jr. Jr..," and his favorite Jewish rock star.
Dale Earnhardt, Jr. was a NASCAR driver. NASCAR is the epitome of Gentile. What was it about this ultimate Gentile that led you to use his name for your band? Hands across religious factions.  The Talmud has a story in which some ham may have gotten into some Kosher soup but no Jew would try it out of fear of breaking the sacred laws. The wise Rabbi says, "let us find a Gentile to taste the soup and tell us if there is ham" and the commentary follows that there is a place for everyone under the sun–chosen, or unchosen.
Have you heard from his estate, or family regarding your band name?
We heard from him directly, and he was really kind, fair and humble.
The new album is titled It's A Corporate World. Have either of you held corporate jobs? If so, what kind?
Daniel worked at Brooks Brothers as a shipper.  That's corporate on many levels.
Speaking of jobs, we can't help but imagine your parents are disappointed by your decision to not become a lawyer or a doctor. How do you cope with that disappointment?
I think it's more my grandparents who are disappointed.  You see, my parents are REFORM Jews, so they're really cool and liberal. My grandparents, [on the other hand], think I'm a waste of a Jew brain meant to cure disease and heal children.
Are you even NASCAR fans? You know they just drive around for like, three hours…
There's a lot of G Forces that those guys have to endure.  Did you know that a neck like mine or yours wouldn't survive a NASCAR race?
Most reviews point out the band's old school influences like Brian Wilson and Paul McCartney. Are they right? If not, take this opportunity to set them straight.
Let's not forget Paul Simon and Neil Diamond.  The diminutive Jew and the Jewish Elvis, respectively.
Have you attended Hebrew School? Any fond memories?
Daniel is a Gentile, but I did attend religious school up until 10th grade. It was a fun place to go where I grew up, but not much interesting stands out.
Name your favorite Jewish rock star.
David Lee Roth because of the hot pants and the success against all odds given his lack of great talent.
Tell us about the portrait on your album cover. And where is it currently hanging?
It is hanging in my living room currently, and it was done by an art student in Detroit named Joanna Care.  We commissioned it as a joke, and then it was such a cool rendering it became our whole world.
Did you guys really remix a Moby song? Have you met him? What was that like?
We did remix a Moby song.  Then while in LA, we did have dinner with him at a vegan/raw restaurant.  He's quite interesting and funny and not really at all like what you might expect.  Well, except for the vegan part. He's definitely vegan. And tiny.
In an interview, you claim to be working on more remixes—what can we expect down the line?
That's a good question, but I don't quite know that we can answer that yet.  Sorry to be evasive.  I have Jewish guilt kicking in right now in a big way.
We once interviewed Elbow and they talked about how they regret their band name. Speaking of, have you guys gotten to that point yet?
Never.  The whole attitude that we took to writing and working on this music was loose and playful.  We take the art seriously but don't feel the need to take ourselves that seriously.
Let's say, hypothetically, you were a NASCAR team—who would be your ideal sponsor? And why?
Whole Foods.  We could make the car run on Vegetable Oil and I'd eat all the organic fruits and veggies I wanted.  We'd lose by so much, but we'd be doing our part, you know?
We hear you once considered naming the band Counting Crows, Part 2. We're big fans of sequels.
How about then "Use Your Illusion 4"?
Obviously, Detroit is known for its garage rock aesthetic—is that changing? Have you met some musicians that aren't basically playing the same song over and over again, i.e., garage rock?
Garage isn't really the big thing there anymore.  There is a huge scene of bands who all sound entirely different from one another. Like many snowflakes–all unique.
We're kidding about the last comment. But seriously, the Black Keys are seemingly playing the same song over and over again. But they're from Akron. All good.
We like the Black Keys.  Maybe because they kind of look Jewish.
Epstein is like one of the most Jewish last names ever. What's your favorite type of bagel, Josh?
Epstein is the "Smith" of the Jews.  I'm an Everything bagel kind of guy.
What was your Bar Mitzvah speech about?
I can't remember, but I think it was about my Torah portion and I remember talking about "Gleaning Fields."
The album comes out in a few weeks. Anxious? Nervous? How are you feeling?
All of the above.  I need to get some Xanax.  That's the missing Jewish chromosome, you know?
What's up with not having a Wikipedia page?
You'd have to take that up with the people, man.  Wikipedia is all about the people.
Dale Earnhardt Jr. Jr. – Morning Thought by Dale Earnhardt Jr. Jr.
What do you think?