When Bob Fingerman envisions the future, he sees a planet with mutants and a healthy supply of Slim Jims. As From the Ashes, his latest graphic novel, begins, Fingerman and wife Michele stand amidst the rubble. In this sharp social satire, the author of Beg the Question populates the world with neighborly zombies who live peacefully with three-headed dogs while "foodies" feast on the flesh of nuclear-charred celebrity chefs.
Like Dante in The Inferno or Lewis Carroll, Fingerman casts his favorite political villains as players. In the post-nuclear fallout, "Rile O'Biley" leads an underground cult of survivors with "Ma Rove" as his sidekick. Zombies insist upon being called "Reanimated-Americans," yet the author insists the story's not intended to be polemical.
"It was more about a mindset and not about blame," he says. "I didn't really want to blame anything specific, other then a general feeling about the state of the world and the state of humanity."
Not knowing if Heeb would survive this fictional apocalypse, we decided to sit down with the cynical cartoonist to talk about everything from his obsession with the end of the world to how he was almost tricked into a Bar Mitzvah.
A speculative memoir could have taken many directions. Why the end of days?
Well, it's not the first time I've dabbled with the apocalypse. That is a theme I could come back to, and probably will come back to again and again. Partly because, to me, it's just a fun scenario to play with. And I wanted to do something kind of silly. I've got a novel coming out in August about the apocalypse, Pariah, and that's much more serious. What can I say? The End of Humanity is just something I never stopped enjoying thinking about.
(Click here to see a larger image.)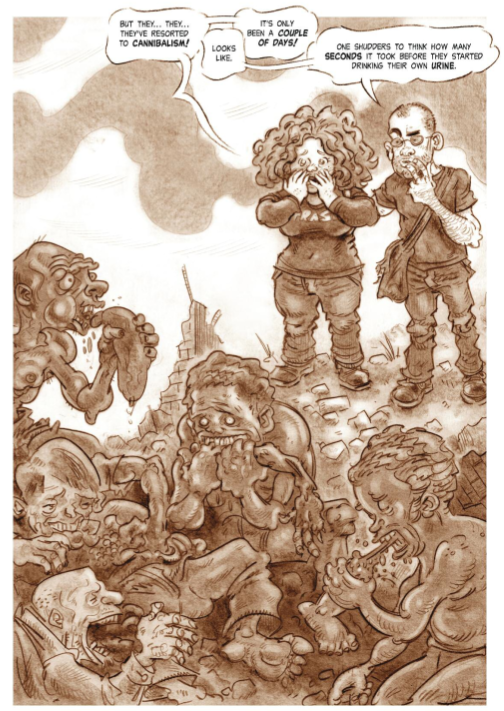 Do you think there's anything Jewish about your work? Are you a born Jew?
Well, I'm a born atheist. Both my parents are atheists, so I'm Jewish in name, but not in practice. I guess since my mother wasn't Jewish at all and I did not come from a Jewish uterus, I committed the sin right from the get-go. But it's definitely in there, culturally. I think it's in the DNA, whether you want it in there or not. I probably use more Yiddish in my work than I have any right to. There are so many things you can express in Yiddish that you can't express any other way. I've got Irish-American friends who insist on using words like 'kvetch' and 'oy.' They just don't have their own words for them.
That's true. We've invented many ways to complain.
When I was twelve, my father's mother, who was Orthodox, attempted to bully me into preparing for a Bar Mitzvah. I got kind of bushwacked. My dad hates religion with a passion, but he drove me out to my grandmother's apartment in Co-op City in the Bronx, and his sister and her husband were there along with my grandmother and I thought, 'What's happening?' And my father sat in the kitchen because he didn't want to have anything to do with it, and the three of them just kind of ganged up on me and were like, 'You should have a bar mitzvah.' It was a really weird moment. My grandmother was Orthodox by her own rules. People who are that fervent about things, they kind of always make up their own shit to some degree.
Well, this book skewers lots of people with fervent beliefs. What makes the God Hates Fags clan and foodies so ripe for parody?
I think you kind of say it in the names. I mean, "God Hates Fags"? Not to undermine myself, but they're almost self-satirizing. I've been aware of Pastor Fred Phelps and his idiotic brood for a long time. I really wanted to work with those guys. It sounds like I wanted to jam with a band: 'This finally felt like the right project.'
(Click here to see a larger image.)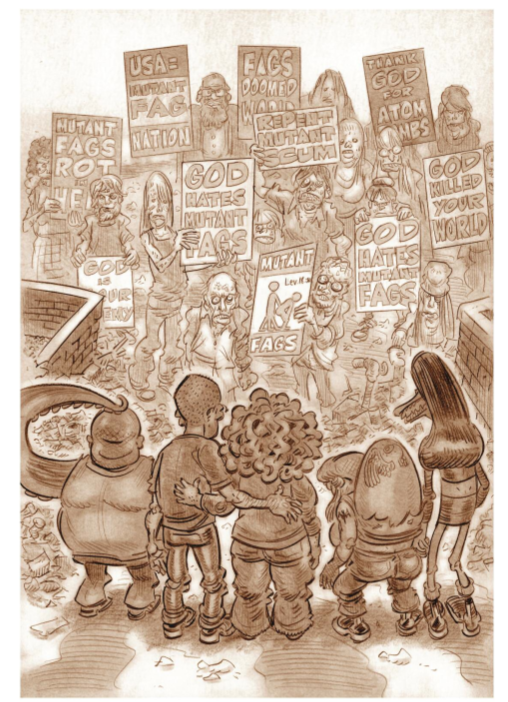 Okay, but why the foodies?
I actually think things like the Food Network are part of the downfall of this country . . . it's just about consume, consume, consume. But now it's consume, but with this patina of, 'Oh, you're eating something fancy now, so eat a lot of it!' And I don't know how affordable they're trying to make things, because you'll hear them say things like, 'Just use your imported truffle oil.' Like, 'Yeah, sure. Why wouldn't I?'
Why did you cast Rove and O'Reilly?
Well, in a way, O'Reilly's easier. 'Cause he's a figure of just nauseous fascination for me. He's such a horrible person, but at the same time, he does have kind of a snake oil salesman charm. A little twinkle in his eye. He can, sometimes, be appealing. Which, of course, makes him even worse. I think I kind of let myself down in not making Glenn Beck a figure in the book – but Beck only appeals to lunatics and idiots. He's just another sign of the apocalypse. At least the apocalypse of American discourse. He has brought it down to the level of toddlers. It wouldn't surprise me if he just whipped it out one day and pissed on a photo of someone he hated, just because he couldn't find the words anymore.
(Click here to see a larger image.)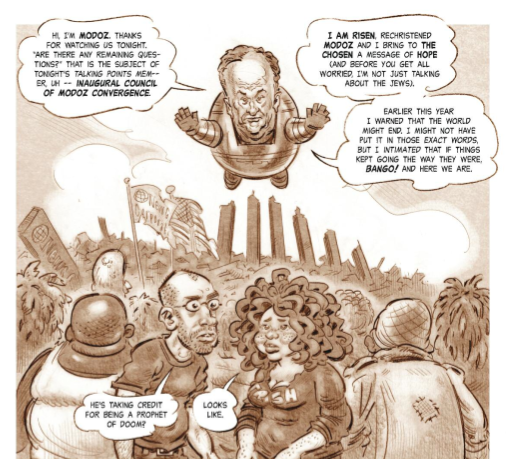 Sex is the first thing your character thinks of after it all hits. Is that realistic?
Oh, absolutely. That's the glue. That's kind of what holds me together in a way. It's like, 'Well, there's always that.' That's like the one happy thing that I can always rely on.
Let's say there is no apocalypse in your time. Like, do you and Michele have a million babies? Do you become a Republican?
As much as I love horror stories . . .
From the Ashes is on sale now. To see more of Bob Fingerman's artwork, click here.
Related Posts:
Chosen Comix: Graphic Novel Gift Guide
Chosen Books: The Kosher Guide to Imaginary Animals
What do you think?