Inspired by Paris Hilton's Amazon author page and (probably) money, Sarah Silverman presents The Bedwetter, an "hysterical," "dirty" "absurdist's delight," according to other critics. But these other reviews leave me conflicted. I know I should probably talk about the book, but I don't like when reviews spoil things, like when a movie trailer shows stuff that happens halfway through the film. Like, I'm not sure if I should even give away if Silverman lives or dies by the end. Maybe it's obvious, but I still don't want to be that jerk who ruins it. Perhaps the title refers to the moment Sarah's bladder releases for the final time, just as she ends her life in one urine-soaked swoop of her pen.
Some wrong people think this author is just famous because she's pretty ("for a comedian," they even add). Silverman's known for saying horrible things and not meaning them. For some, that's all they know about her, and it's not everyone's cup of disgusting tea. (I think most tea is disgusting but Silverman's disgusting jokes are delicious, so go figure.)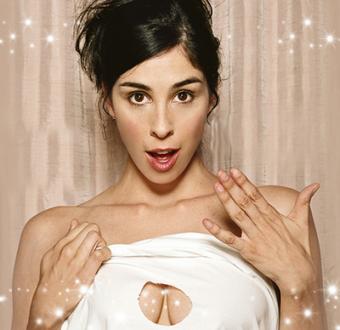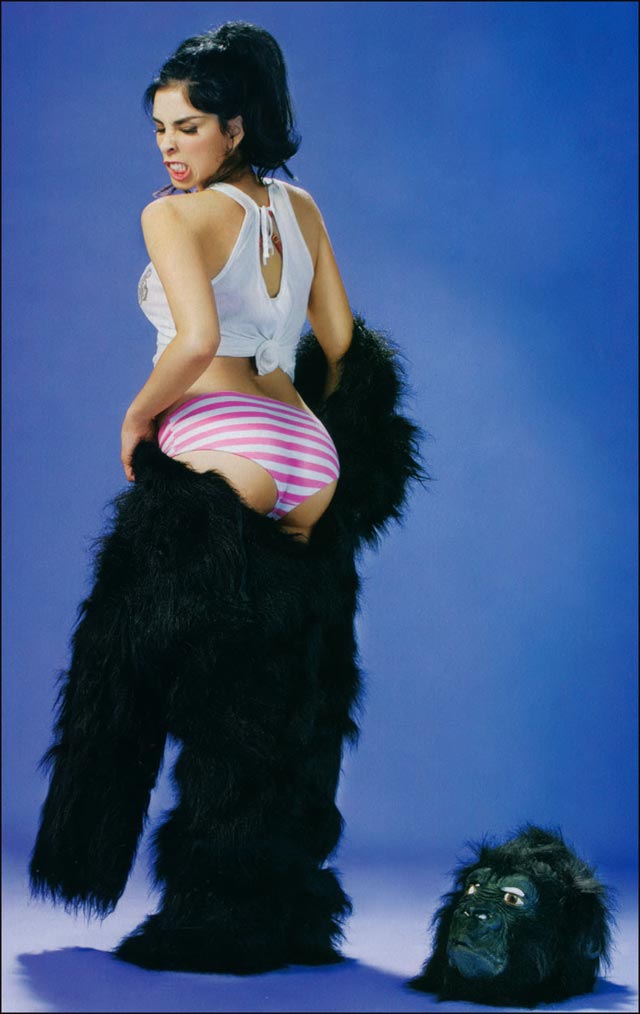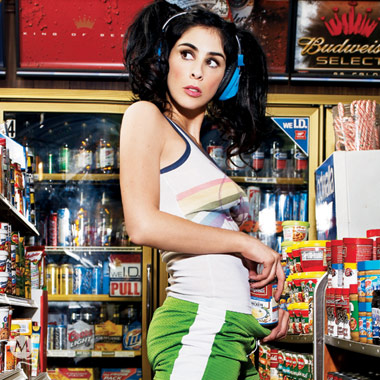 Silverman: officially hot, and not just "for a comedian," okay?
Part tell-all, part explanation for anything she's ever said or done that might have offended, all hilarious, The Bedwetter is also full of pictures of genitals. (No spoilers on which type of genitals or whose. Sorry, you'll just have to buy it to see, pervert.) Silverman takes the reader on an engrossing (and grossing) journey from childhood to childish adulthood, from a foul-mouthed daughter to an older foul-mouthed daughter who creates a successful career out of mouth-foulery. She explains how she became a vegetarian and a non-virgin (though separate instances, both times involve finding an animal repulsive); she shares stories about not being a racist and the people who disagree (mostly Asians); and there's even a tale or two of a wet bed.
In closing, while I may possibly have been motivated to write this review to score a free copy, I now have an honest desire for everyone to read this book. Silverman's standup, normally marked by a detached persona and thick outer layer of snark and irony, is off-putting for some, but here she hits previously unseen levels of honesty and sincerity – the type of genuineness normally associated with comedians like Louis CK, Bill Burr, or Doug Standhope – while still retaining her expected level of filth. (See first chapter, "My Life Started by Exploding Out of My Father's Balls, and You Wonder Why I Don't Work Blue.") Only Silverman could mix a true confessional autobiography with this many fart and dick jokes.
Even if you've hated Sarah in the past, you'll love this story. Unless you hate Jews. Or women. In which case, look out. Jew woman coming at you. With genitals.
Sarah Silverman's The Bedwetter goes on sale today, April 20 (a.k.a. Hitler's birthday). For more of Silverman's humor, visit her Twitter account. Myq Kaplan is a comedian and fledgling book critic. His CD, Vegan Mind Meld, comes out April 27. Check out his website and Twitter.
Related posts:
The Sex Issue: The Cut-up Artists (Heeb's Sarah Silverman profile)
Sarah Silverman Ends World Hunger
The Making of Sarah Silverman's Demon Baby
What do you think?