You know him best as Lamar Latrelle, the the nelly Tri-Lamb with the limp-wristed javelin throw in Revenge of the Nerds, but actor Larry B. Scott is like the Lon Chaney of the '80s teen comedy. The Queens native played bit parts in Space Camp, The Karate Kid, The Jerk, Too, had a shitload of television work and co-starred in the criminally underrated Fear of a Black Hat. Just check out his IMDB and weep.
And the 48-year old still busts his ass. Between fathering two kids (Brandon is 20, Tyler is 12), running an actor's lab in Hollywood (call 323-860-9991 for more info) and co-starring in the stage production of Ya' Gotta Go Higher, the man has hardly any time to bust out his unforgettable breakdance moves for friends. He found time to talk to Heeb, though.
So what have you been up to, Larry B., and what's Ya' Gotta Go Higher all about?
It's a one-and-a-half-man show, and I play the half. [It's the] story of this guy's journey and the path he takes: drugs, sex, really good music. It's got a good shot at going to New York right now. We're just working out the kinks.
Your Facebook updates always indicate that this production is exhausting you. How do you relax?
Thank God for Vitamin P, or I'd be crazy. Pussy is the equalizer.
That's pretty funny considering (because of Lamar) the whole world doesn't realize that you're straight.
I can't tell you how many times gay guys have come up to me and said: 'Thank you, thank you, thank you. You've held our flag up so high!' But that was just my job as an actor.
Did it aggravate you? I read that you had even turned down the feygele role of Hollywood in Mannequin.
It used to. After Lamar, every script that came my way was 'Can you be gay?' The gay thing didn't bother me as an actor. I just don't want to play the same role. Once you create something, you want to do something different. Financially, I probably should have taken [the Mannequin role]. The movie made a lot of money.
When Nerds came out, I remember working as a parking lot attendant at Universal Studios. People were like 'Aren't you …' and I'm like, 'Yeah, that'll be five dollars.' I still needed my five to seven dollars an hour. The fame comes before the fortune. Nobody got money after that movie, except maybe Bobby Carradine and Bernie Casey.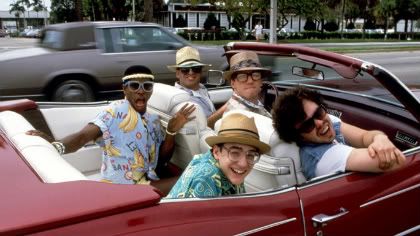 Do you still get recognized for Lamar? Does it bother you?
On the streets I get noticed from Nerds 10, 20 times a day. But it's [as] 'that dude' or 'the gay guy,' which is exactly what you want to hear when you're on a date with a girl. But Nerds opened up a lot of doors for me, no pun intended. Folks didn't realize I could act.
Well, if no one was convinced of your talents then, they certainly were after your performance as Tasty Taste in the cult fave Fear of a Black Hat. Too bad it got lost in the shuffle.
Yeah, the company changed hands, and it hit the shelves. The incoming prez didn't think it was going to be that funny, and he made a mistake. [Director] Rusty wanted me to aim for Flavor Flav and Eazy E [in my performance]. So many ducks have to be lined up to make it work [in its entirety]. You'll bang your head against the wall to make it happen right, but [on the creative tip] it was literally an example of what happens when you give the right people rope. It's the one I'm most proud of.
Oh, so it wasn't Space Camp?
That was actually the most tech-progressive film at that time. We had built a mock space shuttle, and a month later, when the space shuttle blew up, that killed the climate for space shuttle movies. The studio put something like $30 million into it, but now I guess it's better known for starring all the wives of future Hollywood royalty: Lea Thompson, Kate Capshaw, Kelly Preston.
Looking at your IMDB, you're kind of the black Kevin Bacon. I'm surprised you haven't worked on any Spike Lee movies yet.
What happened was I was the black guy who blew up in the white movies. Spike asked me to do School Daze, but I was working on Nerds II, and he didn't have money. Other than Eddie Murphy, I was probably the only working-est brother in the movies. That was back when they were letting one brother in per decade.
When I interviewed Andrew Cassese (Wormser), he said he wasn't around all the crazy party shit that was happening on the set of Nerds.
Andrew's head was spinning. That kid was 13 at the time. For the second one, though, we were down in Fort Lauderdale for seven weeks with 200 extras in bikinis. I'm sure he remembers that one, and that's all I'll say.
I also interviewed Donald Gibb (Ogre) a while back, and he told me that Robert Carradine was a total dickhead. Is that true?
I guess people rub people differently, but Carradine and I got along fine. I guess you have to understand his sense of humor. I remember one time he took me down to Arizona once really quick in his Camaro. We were humming down a two-lane road at 100 miles per hour, which was scary as fuck.
I gotta ask: Did you get to keep the javelin?
No, but I did keep the jacket. I think it's in the closet somewhere. I actually had a fever that day, and all I could do is that one thing, the javelin throw, then I went back and threw up.
That javelin. Nobody knew at the time it would be such a coveted item. They probably just trashed it. You just don't know how it's all going to play out, that 20 years later you're going to be talking about the same film. You just accept it as it is and be thankful for it. I could be talking about nothing right now.
Peep Dreidel Hustler's interviews with Wormser and Ogre, too.
What do you think?