By: Jayson Littman
Contributing Editor: Tali Aronsky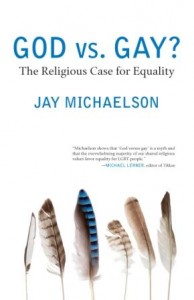 Back in 2004, when Mel Gibson's Passion of the Christ was released in theatres, I had a strong desire to see the film. I was intrigued by the very people whom I only knew about from Christmas window displays at Macy's. Since my yeshiva education had taught me that even acknowledging Christianity would be idolatrous and the fact that Mel Gibson promised to donate $100 million of the film's gross to the Catholic movement, I did what any observant Jewish guy who didn't want to support Gibson or the Catholics would do: I purchased a ticket to Mean Girls and snuck in to see the Passion of the Christ. I was reminded of this story as I began to read Jay Michaelson's latest work, God vs. Gay? The Religious Case for Equality. With the Hebrew Bible only having two verses dealing with homosexuality and the New Testament seven, much of the book references those seven and felt a bit like the Cliff Notes Catholic education I got from watching the Passion.
"Love your neighbor as yourself" is the main theme of God vs. Gay and, for Michaelson, of the Bible itself. He cites similar Bible verses that are often used in Jewish teachings, such as love, being created in the image of God, that every person was created in perfection, but are all too forgotten when it comes to leaders counselling young souls in the area of sexual orientation. Michaelson shares how his own spiritual life didn't really begin until he came out as a gay man, "Once I was honest with myself, I could be honest with God. Once I started loving myself, I could start loving God. And once I allowed my heart to open, it opened in all directions." This is a powerful sentiment that can serve as a message to all people of any orientation. We all have watched Dr. Phil at some point and heard him tell us that if we don't love ourselves, we can't truly love other people. Michaelson shows us the power of loving oneself as providing us the ability to love others. When we are able to love others, we can love God, too. This is truly an inspirational teaching as we all spend way too much time hating the gay part of ourselves (or replace gay with practically anything) and don't realize that God is within each of us. If we hate who we are then, in some ways, we hate the God inside of us, too.
Throughout his book, Michaelson reiterates that readings of love and inclusion should be championed when faced with competing interpretations of how to read all those famed biblical verses that talk about sexual prohibitions. Luckily, Michaelson's background as a scholar, teacher, activist and author help him to portray these problematic verses ("Abomination!" "Do not lie with a man as you would with a woman," etc.) in a way that is respectful but also convincingly justifies an acceptance of LGBT-identified individuals. Michaelson argues that these verses are subject to interpretation and context, and that, for millennia, every rabbi, scholar, politician and priest has finessed these verses in a way that appeases their congregants, consciences or electoral ballots.
Near the end of God vs. Gay Michaelson discusses how when he felt that God hated what he was doing, he blocked God out. The self-hatred of someone struggling with sexuality can result in irresponsible and unsafe behavior that makes one think if they are "already sinning against God and nature, who cares about consent and safety?" Michaelson continues with what I believe is the most powerful part of the book, "And since you're already an inveterate sinner who deserves to be punished, why worry about HIV or AIDS either? If you get it, you probably deserve it." My hope is that all those whom are hesitant to read this book will do so to make sure this pernicious thinking process is stopped. Religious communities that proclaim pro-life must use the same ethos to ensure that all living beings remain alive, and that those members of our communities who struggle with their sexual identity do not prematurely end their lives due to self-hatred.
While Michaelson's book aims to appeal to a wider audience it better suits an audience that seeks to resolve their biblical confusion on homosexuality or straight allies whom we hope will read this book and remain more focused on the values of love and acceptance that Michaelson invokes. At the end of the day, I think Michaelson's book would resonate with any person of faith who has struggled when dealing with the balance of wanting to follow the letter of the Torah law but being confident in an orientation that, on the face of it, doesn't exactly jive with the Torah.
The Talmud (Sanhedrin 37a) itself asks why the human race was created as a single human being, as opposed to creating many people at once (like the animals which were created en masse). This teaches us that just as Adam was created in the beginning, and he was the entire human population of the world, likewise we need to look at each individual as if s/he was the entire population of the world. Therefore, if you save one life, you save an entire world. Isn't it the responsibility of the greater religious community to make sure that all people are kept alive? Reading and taking in the lessons God vs. Gay can possibly ensure this.
As for the $11 I spent on Mean Girls (which very well may have gone towards Lindsay Lohan's drug habit) I get the feeling my money may have been better off in the hands of Mel Gibson.

What do you think?