Now that 5771 has come to a close, we are still looking back at the year that was. Here is the best in comics from last year.
That it was excruciating to choose only ten top comics is a testament to the bursting-with-goodness state of the medium. Not only is there so much sublime new schtuff, but comics has finally caught up to music in the remastered rerelease department. Underread gems previously issued in flimsy ad-riddled floppies are reborn in form worthy of content IE bountiful omnibi.
Winnowing the crop was so tough I declare a 4-way tie for 1st place. Doesn't mean they're better than the rest but four books were two things in addition to great. 1) They've got the never-seen-anything-like-this-before factor. 2) They're utterly immersive, sucking you into a wild world expertly conjured with singular vision and aplomb.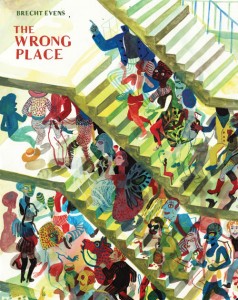 1. THE WRONG PLACE by Brecht Evans (Drawn & Quarterly)
THE WRONG PLACE paints a picture, literally, in exquisitely phosphorescent watercolor, that's riproaringly resonant if you've ever been swept along the steaming current of a swirly club-night out. It also hits home heartily if you've had either of two types of acquaintances: A) The deerspooker, well-intentioned but with an unfortunate superpower of instantly pooping any party and B) The gold-hearted nine-lived charmer you hate to love and would love to hate but can't. Francis (A) and Robbie (B) are old chums and the dynamic between them is heartfelt and hilarious.
1. ZEGAS by Michel Fiffe (Copra Press)
This trippilicous four-color fever dream is Michel Fiffe's solo print debut. A founding member of indie webcomix collective ACT-I-VATE, Fiffe is a primo purveyor of genuinely romantic sexy psychedelic scifi. Siblings Emily and Boston Zegas wind up in situations simultaneously surreal and recognizable. Emily works at a robot-puppet shop and struggles as to whether she should mouth off at a douchey client. She does and gets canned. Fiffe masterfully depicts what this looks like from the outside and feels like from the inside.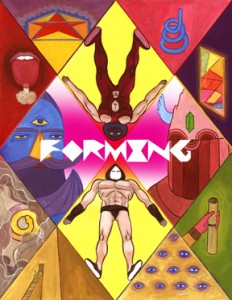 1. FORMING by Jesse Moynihan (NoBrow Press)
Earnest and ironic, FORMING is a cheekily virtuoso remix of Greek Mythology, Biblical tales, scifi, and hip cartoon sensibility. Having never even heard of this cosmic concoction's webcomic iteration, I was jawdroppingly dumbfounded when I discovered it at this year's Small Press Expo. I immediately called it out as the closest thing in comics I'd seen to Alejandro Jodorowsky's majestic  mindfuck of a movie Holy Mountain. Easily frothed, I immediately Blackberry Googled creator Jesse Moynihan and found out yeah, he digs Jodo bigtime, and also that his day gig is as a storyboarder for Cartoon Network's Adventure Time. File this baby under total treat.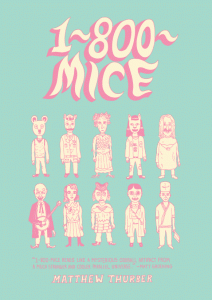 1. 1-800-MICE by Matthew Thurber (PictureBox Inc.)
This intricately epic, epically absurd fantasy is set in Volcano Park, a setting that in terms of kooky characters rivals H.R. Pufnstuf's Living Island. Talking trees, messenger mice, sinister dentists and hermaphrodite hippies abound. This ain't no stream of consciousness, more like gushing dam-busting river. One of a bazillion subplots involves an effort to revise history to read that the banjo was created in Scotland. How? By planting fake YouTube videos that insert banjos into historical scenes featuring Highland folk heroes. As nutty as this all sounds, its a remarkably readable hyper-imaginative ride.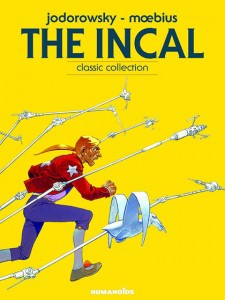 THE INCAL (Classic Collection) by Alejandro Jodorowsky & Moebius (Humanoids Publishing)
Alejandro Jodorowsky, best known for films Holy Mountain, El Topo, and Santa Sangre is also the writer of 20+ spirituality-imbued superpsychedelic scifi graphic novels with a visionary scope on the level of, oh, say, Alan Moore and Grant Morrison times Neil Gaiman and Warren Ellis. In the early 70s he was set to direct DUNE, with music by Pink Floyd, actors including Orson Welles, Salvador Dali, and designers Giger (Alien) and Moebius. The movie, obviously, wound up not happening. Instead, Jodo teamed with artist Moebius and made The Incal instead. How good is it? As mindblowing as that Dune sounds, Incal and the subsequent Metabarons and Technopriests graphic novels go deeper and broader than any film could ever hope to. Unless of course it had a budget of $3 Trillion dollars.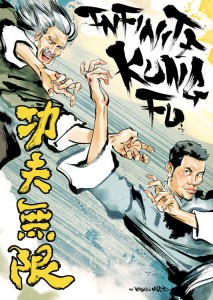 INFINITE KUNG FU by Kagan McLeod (Top Shelf Comix)
This groovy zany mashup of Kung Fu flicks, 70s Blaxploitation, westerns & zombies justifies its 400+ page heft. It yanks you all the way through by the nards with nonstop action, charming wacked-out characters like the funkyfresh Moog Joogular, creative insanity allround and stylie seemingly effortless art. Infinitely fun, foo'!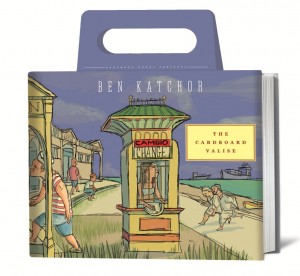 THE CARDBOARD VALISE by Ben Katchor (Pantheon Books)
Katchor is a master of subtle magical realism, both archeologist and anthropologist examining an imaginary yet recognizable,  slightly-off  Jew-ish Lower East Side-ish urban landscape. His savorable turns of phrase say it all: "The average islander has lost all sense of where a cabbage comes from, much less how its transformed into a plate of sauerkraut." "From the gnawed remains of 5,000 broiled lamb chop dinners, we can manufacture one artificial wool men's sports jacket." "Madame, I've been married forty-seven times. You don't have to "break the ice" with me." And perhaps the greatest sentence ever written: "Several blocks away, in a secret dining room, three knockwursts burst from overcooking."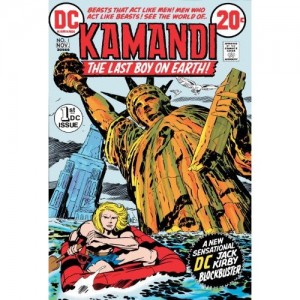 KAMANDI, THE LAST BOY ON EARTH Omnibus Vol. 1 by Jack Kirby (DC Comics)
Jack Kirby was the visionary artist who created The Fantastic Four, X-Men, Hulk, Thor, Silver Surfer, Captain America…the Marvel universe sprang forth from his (and writer Stan Lee's) noggin. In the '70s, Jack went solo, cranking out ahead of its time jazzy snazzy characters for both DC Comics and Marvel – the New Gods, Omac, Forever People, Eternals, Devil Dinosaur,Demon, and Kamandi. In 1974, DC  told Kirby to "create something like Planet of the Apes," because they couldn't get the license. What resulted, Kamandi, was superficially similar, a young hero in a post-apocalyptic future where humans are savages in a world ruled by intelligent hyper-evolved animals (apes, tigers, lions cheetahs). But Kamandi was typical Kirby, which meant unrelenting exciting yarns with inspired outrageous ideas on every page and dynamic in-your-face art.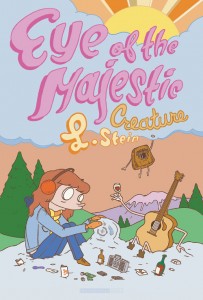 EYE OF THE MAJESTIC CREATURE by Leslie Stein (Fantagraphics Books)
No offense to her –well she better not take offense because I put her on this list!– but I'd never heard of Leslie Stein before a wise publicist sent it to me thinking I might dig. What a treat discovering a new "voice" that speaks to you as much as longtime favorites. Stein's comics are semi-autobiographical, with a talking boozing guitar as a best friend. Her visiting friend "Seashell" tells a story about getting high, listening to Pink Floyd's "Meddle," looking at the album cover and getting freaked out by Roger Waters' face! Who hasn't been freaked out by his face! The art is an odd hybrid of Peter Bagge and Michael Kupperman that totally works, but its her writing that rocked me. "What is your favorite animal?" "A PANDA BEAR holding a baby DWARF rabbit that has a little BIRDY on top of its head!"– "Here I am, trying to cure my own loneliness and end up alienated by someone else's." — "Hungover?" "No..Well..not anymore than usual… I just stupidly stayed up until nine this morning watching THE MUNSTERS…. Seriously, it's the best show ever! It couldn't be helped!"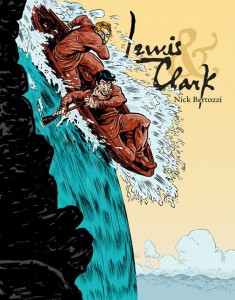 LEWIS & CLARK by Nick Bertozzi (First Second Books)
This historical graphic novel should be the only way this material is taught in schools. The phrase "bringing history to life" is such a cliche, but that's exactly what Bertozzi deftly does with his thick black ink strokes and superb storytelling chops. In 1804, Meriwether Lewis and William Clark departed St. Louis, Missouri, for the West, appointed and funded by President Jefferson. They made the Louisiana Purchase and got quite a bargain. Those facts used to put me to sleep. Watch a trailer here.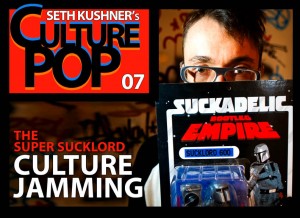 CULTURE POP Photocomix Profiles of Real-Life Characters by Seth Kushner (ACT-I-VATE.com)
Seth Kushner, (who shot our HEEB Beastie Boys cover) loves comics and loves taking photos of interesting people. He combines the two passions, in the form of photocomix profiles. He interviews the subject, shoots them in action, then the first-person results become the text of the comic. If not done excellently, this would suck. All 25 of his profiles to date are don't suck, including Harvey Pekar (American Splendor), sousaphonist/producer Clark Gayton, graffiti artist/sculptor Carlos "Mare 139" Rodriguez, author Douglas Rushkoff, toy designer Super Sucklord,  VJ Jonny Wilson of Eclectic Method, writer / erotic editor Rachel Kramer Bussel, hip hop performer Akim The Funk Buddha, comedian/musician Reggie Watts, artist Cynthia Von Buhler and many more "characters."
What do you think?