It's been a tough week for Jew/Vatican relations. First, Benedict XVI, His current Holiness (and former member of the Hitler Youth), sparked outrage by trying to elevate Pope Pius XII (aka "Hitler's Pope") to sainthood. Then, his Pope-ness sent out a press release rationalizing the decision. It explained how Pius #12's actions aren't, like, actually relevant to the sainthood process: " . . . the Church does not celebrate the specific historical decisions he may have made, but rather points to him as someone to be imitated and venerated because of his virtues." Huh.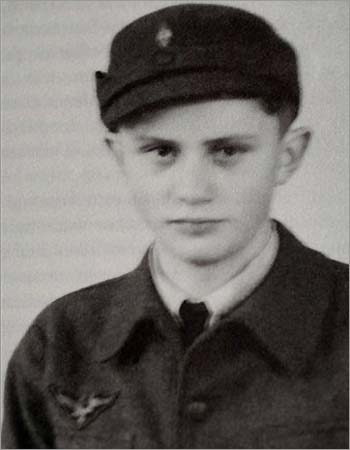 Look how cute in his little Hitler Youth outfit!
Finally, a US court just dismissed a lawsuit by Holocaust survivors against the Vatican for laundering stolen assets during the war. Keep in mind that the court didn't actually clear the Vatican of anything. They just upheld a lower court's ruling that, as a foreign country, Pope-land is immune to such things. Engaging in commercial activities in the US would void the immunity, but the argument didn't fly.
"The reason we're disappointed," Attorney Jonathan Levy told reporters, "is that the court found that dealing in gold teeth from concentration camps was not a commercial act."
Things have always been a little shaky with Pope Benedict. Remember how he welcomed that Holocaust-denying Bishop back into the fold? Or when he reinstated the Latin-language Tridentine Mass? Calling for the conversion of Jews, it was reformed about 40 years ago, but Benedict brought it back.
So what else could damage to this already messed-up relationship?
Stay tuned. Next week, the Pope will make communion even more authentic and Christ-like by replacing the wine with the blood of Jewish men. (This would also, incidentally, solve a lot of transubstantiation problems, potentially bringing a few Protestants back to Catholicism.)
What do you think?