You probably don't know Taylor Negron by name but have seen him in Easy Money, The Last Boy Scout, Punchline, Bio-Dome, Better Off Dead, Fast Times at Ridgemont High, Nothing But Trouble and more than likely a good majority of the other movies listed on the actor's IMDB page.
Though it doesn't bother him that he's just another face on the character actor's food chain. The Iranian-Jewish-Latin mutt remains humble about his prolific, albeit obscure, television/film career. "Perfectionism is self-abuse of the highest order," he says, which might be a magic mantra since the guy gets so much work. (After all, dude owns homes in France and Venice Beach.)
Negron spoke with me this week about his success with bit parts as well as his one-man show, The Unbearable Lightness of Being Taylor Negron, which just passed through New York.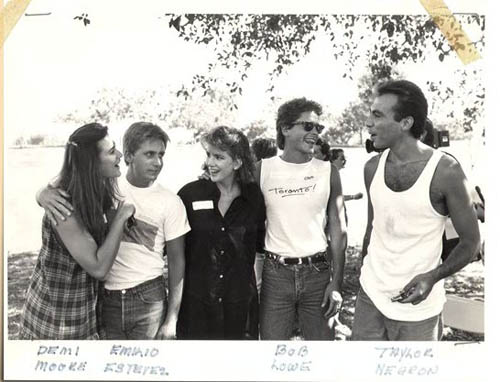 After all these years, your work hasn't made you a big star. You don't abuse yourself with this kind of negative thoughts at all?
I have never abused myself in that way. I am the postman. I am the man who delivered your pizza. I am the gang member. I am the man that kidnapped your daughter at gunpoint. I'm a nanny. I am a stylist for mice. I am your shrink. I also direct pornos. I am the groom and the maid of honor.
Everything has changed so much. When I started out at age 15, having the first name Taylor was a rarity. Now it's the name of little girl brats in restaurants. I can't go into the Olive Garden without hearing a screeching mother yell "Taylor, don't do that with that olive!"
Where on the actor's food chain do you see yourself?
I like that, an actor's food chain. I would never eat anything smaller than me and my flesh is indigestible to 89 percent of the species on planet Earth.
The "the guy from so and so" thing doesn't bother you?
I never searched out celebrity. Perhaps that's because I was raised in Los Angeles with a rock star for a cousin [Chuck Negron from Three Dog Night] and thought at an early age that fame is something to be scared of. Like doctors or car accidents, it's something to be avoided at all costs.
Nowadays every reject from Americas Biggest Loser wants to be famous, but not every reject gets to be Harry Hamlin or Lisa Rinna. Or, for that matter, Heath Ledger.
Well, people dig you, even if they don't know you by name.
Kids go hog wild when they see recognize me from The Wizards of Waverly Place (a hit series on the Disney channel). It's like suddenly without warning I am Paul McCartney, before Wings.
I have also found that a great many gay boys and girls know me from The Olsen Twins where I played their nanny. These people wear oversized sunnglasses and go out of their way to let me know that they know who I am and don't care. It's kind of sweet.
Well, they must be your favorite.
The demographic I am most proud of is the stunning number of fans I have in the homeless population. There is this man who lives in a cluster of garbage cans in Venice Beach where I live. Whenever he sees me, he gives a high-five because I was in The River's Edge. What's so stunning about this is how so many homeless people have premium cable. I wish my dumpster was cable ready. I wouldn't have to be answering these questions.
Ever considered putting together some sort of annual to celebrate cinema's greatest death scenes? I'm referring, of course, to your wicked turn as scumbag Milo in The Last Boy Scout.
That death scene in TLBS was nominated for Best Death by the MTV Movie Awards. [Director] Tony Scott used real helicopters and ammo. He also had on the set two football experts, O.J. Simpson and A.C Cowlings, who could not have been more normal, except at lunch O.J. ate his sashimi with an axe.
When we were shooting the high scaffolding scenes, Scott and the crew almost plunged backwards and died a certain death during one of the stunts three stories high. I grabbed them and saved them in one second. Immediately after that, I called my lawyers to ready estate and paperwork in case of an accident.
That stunt for Milo's death (skip to 8:00 mark at this link) was, at the time, a very big deal. It involved multiple cameras, stunt doubles and thousands of extras at the Coliseum in downtown L.A. John Travolta, Madonna and G. Gordon Liddy came as spectators. I was holed up in my trailer with my trainer eating Dove bars and chain smoking.
So your face didn't get sliced up by the helicopter wings?
They did most of my close up with a plaster cast of my head smeared with blood. I took my salary from that movie and bought an old house in France. The audience applauded when I died. This made me feel like Christ.
After that I never saw a movie with me in it.
Was it easy working with Bruce Willis?
The Last Boy Scout was about a big football game and Scott would always yell 'cut' because, somehow, I would get confused and say 'Joseph, let's go to a baseball game' instead of 'football game.' Bruce Willis once rolled his eyes.
Is it a pretty common thing for deadpan comedians to be cast as the villain? You in Boy Scout, Eric Bogosian in Under Siege 2 …
Comedians, if they can act, generally bring a whole new surprising array of colors and tones to a role. Their minds are different. It's why Roseanne and Jerry did so good on TV. Their thought patterns where entirely new to people. This same thing applies with comics as bad guys. They go about it in a new way.
I feel like we can't go without talking about Punchline. Sure, you were only one of a bunch of comics lingering in the club's basement, but you really came across like a tormented, struggling artist.
I played one of those humorless, deadly serious guys. The kind of comic that never laughs but will look at you and say flatly, 'That's funny.' The kind of guy who only thought of himself and would stop at nothing to get the spotlight. The male comic is preening, self-assured and neurotic about receiving praise. I wish I could be more like that in real life. I would have more money in my accounts.
Do you identify with the tears of a clown cliche?
Comics are tortured because they hear and feel too many things at once. It all goes in. It's the laughing clown-murder-rapist-waiter-priest syndrome. I come from standup where all you have is the moment on stage. No cameras to capture any of it. It's just you and the crowds and you're on your own to savor or deny whats happening. Pure Theater.
So you've spent a lot of time in basements like these right?
My happiest moments where spent in basements and crammed into greasy kitchens laughing 'til I peed in my pants. Punchline captured that to an extent. Comics have an enormous ability to be in the moment and, when they click with one another, the jokes flow like lava. Or pee.
They are still my favorite people in show business and are treated like animals. Still.
How did you get your start?
I was 18 and needed money when I answered an ad in the L.A. Times for a clown at the grand opening of Iranian supermarket in Hollywood. 'Clown needed ASAP. Must supply costume.'
I wore painter's pants that had no zipper. I spray painted tennis shoes gold. I wore a horizontal stripe, big-necked long sleeve t-shirt, the kind Peter Allen wore when he sang 'bi-coastal.' I painted my face in white lipstick. I wore red lipstick and resembled a watermelon that had been dressed by a klan member with his dick hanging out.
How'd it go?
I had no clown moves. I certainly could not do a backflip. All I could do was make wisecracks. It worked. The gig lasted the whole weekend. It's why I love Iran.
Then, the first stand up I did was opening for The Tubes rock band at the Whiskey A Go Go. The gig was two weeks, and I had to wait in the parking lot between shows because I was under age. Then, the bus home to the apt I shared with an improvisational dwarf who would shoplift jack cheese and make delicious quesadillas. These were the good times. To this day I hate paying for cheese.
In One Crazy Summer, for that scene where you run out of the gas station with your necktie shoved in Billie Bird's car window, how many takes before Savage Holland was satisfied? (Skip to the 1:50 mark above.)
This was filmed in Hyannis Port on the Cape in August, and it was too hot to wear that costume. I may have hyperventilated. So we did many takes. Savage Steve is a genius director. I have been in all his movies. I also hyperventilated in that Ed Wood movie running after Billy Zane.
This one is from my brother, the biggest Easy Money fan. He wants to know: Are you bad?
I am so bad I should be in detention.
That was Jennifer Jason Leigh right out of the gate. And here you are, adjusting motel mirrors in your sleazy bathrobe in the honeymoon scene so you can pop her cherry. It had to have been titillating to perform. Any boner action in that scene? Or did the production team keep it too cold in there?
Well, I couldn't get a boner in front of a teamster and a gaffer named Chewy. I knew Jennifer from Fast Times at Ridgemont High. We had so much fun doing that and [for Easy Money] were stuck in NYC at the Mayflower Hotel for months because Rodney was having drug problems.
I still consider Jennifer my wife, despite the fact that the actor who played the priest who officiated our marriage during the shooting was stone-cold drunk and kept saying our names backwards.
What movie or TV show gets you the juiciest residual checks?
Seinfeld. The smelly car episode. I also get a lot of money from Angels in the Outfield, which is amazing because Disney is not too fond on giving money away.
Back to spending time in basements at comedy clubs: What's this one-man show you're putting on nowadays? What's it all about? And should we go to your site to buy tickets?
It is a fusion of stories and original music performed by myself and a young musician named Logan Heftel. The show is a moving, funny musical account of my life growing up in Hollywood. It began at the Edenbourgh Theater Festival to some very warm notices there and sold-out crowds. We have just returned from the New York City Comedy Festival and are heading to London in the spring.
Here is the website with lots of info.
What do you think?