For whatever reason, I've been lucky enough to work and jam with lots of my heroes, in this case, the 91-year-old laugh machine AL JAFFEE.  Jaffee invented the MAD "Fold-In," which he started in 1964 and has done over 400 since. He's also the author of eight volumes of Snappy Answers to Stupid Questions. A month prior to this performance at the 12/21/10 HEEB Storytelling Live Comics Edition at Joe's Pub (full recap here), I interviewed him on stage at Drew University and told him about the upcoming event I was producing. Not missing a beat, Jaffe goes "I'd like to try that." In the car back from the talk, we decided on doing some of Snappy Answers to Stupid Questions live, which he'd never done before,  with me being the straight man, a la Mel Brooks / Carl Reiner's 2000 Year Old Man, and voila:
Last year, I worked with Jaffe on promoting Al Jaffee's Mad Life, his recent biography written by Mary-Lou Weisman with 65-plus new Jaffee illustrations (Heeb ran the complete prologue as an exclusive) Unintuitively it's quite the tearjerker. He had a wretched childhood, with a hyper-religious mom who locked him and his brothers in an apartment with nothing but a piss bucket and gave all the family's money to tzedakah, letting her kids go hungry.  As if that wasn't enough for these poor pishers, when Jaffee's dad got them out of Lithuania to the U.S., she kidnapped them and took them back! Just in time for Hitler! So no wonder he's the ultimate sillyheart; he escaped misery by entertaining himself and others and made a career out of it.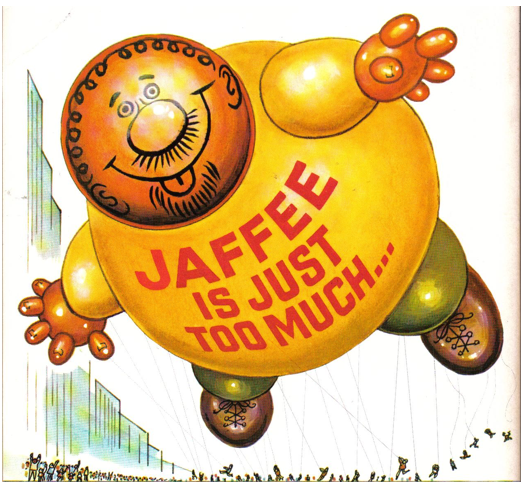 The ultimate treat for Jaffee fans was recently unleashed, The MAD Fold-In Collection –a deluxe four-volume set, including ALL 410 fold-ins reproduced at original size, with the "folded" image on the following page.
Bonus selection of Jaffee gems:
Interactive NY TIMES feature "Fold-Ins, Past and Present"  (use mouse to fold the Fold-In!)
COLBERT REPORT: "Sign Off – Mad Magazine; Stephen honors the inventor of the Mad Magazine fold-in, Al Jaffee."
3-Part AL JAFFEE Interview by Heeb contributor Brian Heater at THE DAILY CROSS HATCH
Al Jaffee & Michael Kupperman in Conversation at The Comics Journal
AL JAFFEE makes a FOLD-IN for ROYAL FLUSH MAGAZINE #7
What do you think?