In Michael Haneke's new film The White Ribbon (Das weisse Band), people get hurt, leading others to search for a culprit. A calm, quiet town in northern Germany quickly begins to unravel, and a child's response to the violence is almost as disturbing as the crime itself.
One of the town's most prominent and respected citizens, its pastor, has a harsh method of punishment to teach his children right from wrong. When they don't live up to his expectations, he ties a white ribbon to their arms as a sign of sin—a physical reminder that they should be living a purer life. It's not exactly a yellow star, but he marks them for others to see, ostracizing them from their classmates.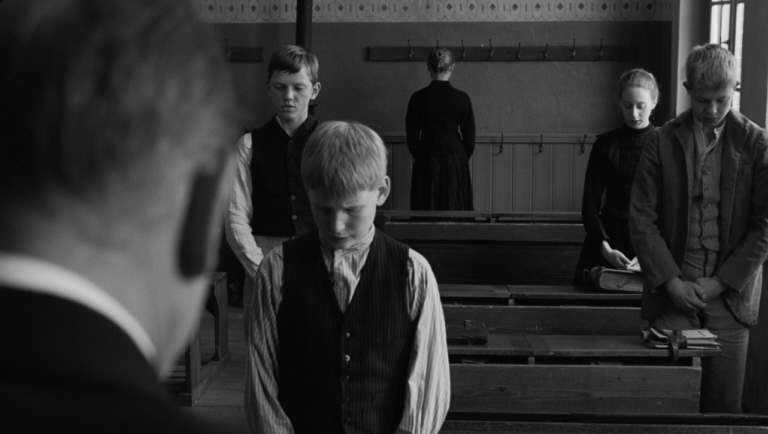 Austrian filmmaker Michael Haneke is no stranger to controversial subject material. His recent films include The Piano Teacher, Caché and the English language shot-for-shot remake of his own divisive 1997 film Funny Games. With The White Ribbon, he returns to his native language and a searing look at pre-war Germany at the turn of the century. His choice to film in black and white — when the themes and morals explored in the film are anything but black and white — is especially interesting, and provides a fascinatingly clear lens to view its story.
20th century films about Germany usually focused on one thing: Nazism. There's no mention of Hitler or the war in The White Ribbon, but there's a theological undercurrent you can imagine leading to Nazis–to persecution based on race and religion. Since the criminals are never identified, everyone's to blame. And the film's narrator even wonders if perhaps the severity of some of the townspeople led to these events – a punishment for the entire town.
An extraordinary intriguing film, there're many moments to contemplate in The White Ribbon. The story is slow but fully engaging, and has a foreboding tone that never lets you relax yet keeps you vehemently interested. For those who like their films tied up at the end like a bow or a ribbon, this isn't for you. The narrator reveals right at the start that the criminals will never be brought to justice. It's the search and suppression of guilt that's remarkable. The White Ribbon raises questions but doesn't necessarily provide answers.

The White Ribbon opens in theaters nationwide December 30.
Related posts:
Inglourious Basterds: The Review
What do you think?