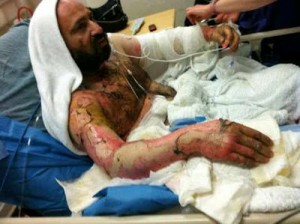 The New Square Village, a chasidic enclave about an hour upstate from NYC, may be a fundamentalist sect. But they are a peaceful people. At least, until you disagree with them on something important, like which synagogue you want to attend.
The NY Post reports,
A man suffered severe burns during a fight amid a religious dispute in the all-Hasidic Rockland County village of New Square, cops said.

Police said the 43-year-old victim, Aron Rottenberg, fought off a village resident armed with an incendiary device.

The suspect, Shaul Spitzer, 18, was charged with attempted arson and first-degree assault. He suffered serious burns to his hands and arms.

Rottenberg was hospitalized with burns to 50 percent of his body, according to the Journal News, which quoted cops as saying he and his family had been targeted for not attending the synagogue presided over by the grand rabbi. They went to a rival synagogue instead.
Oh, well…if he went to a rival synagogue, I guess he was kind of asking for it. How much disrespect can upstanding community members possibly be expected to suffer before they reach for the flame thrower?
Radical chasidic groups are the most dysfunctional Jewish communities in the U.S., with one enclave enjoying the dubious honor of again being the most impoverished municipality in the nation. As they become ever more brazen, it appears we will increasingly add violence to their list of anti-social behaviors.

Picture courtesy of Failed Messiah.
What do you think?