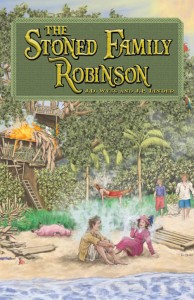 BY: Regina Bresler
To celebrate the release of her book, The Stoned Family Robinson, writer Joselin Linder took some time between bong-rips, book signings, and the requisite Passover family visits to ponder exactly how your average yiddishe mama is not that far removed from all you resin-stained hippies. My personal additions to the list include: microwave masterpieces, obsessing over the texture of fabric, and being mesmerized by the shopping network.
Here's what Joselin came up with.
In honor of 4/20, Top Ten reasons Jewish Mothers are like Stoners:
1. They are obsessed with food.
2. They make you repeat everything you say at least twice because they aren't totally paying attention while you are talking to them.
3. They actually really think that your high school production of "South Pacific" was incredibly well acted and the voices were almost as good as the ones on that Idol show — and they will spend a substantial amount of time discussing and breaking down plot points, going, "And how amazing was the 'I'm Gonna Wash That Man Right Outta My Hair dance routine?'" — for the next seventeen years.
4. They are unpredictable: One minute smothering you in kisses and the next minute making you feel bad for not having gone to law school.
5. They are often amazed by the human body, focusing on the minutia of everything from the digestive process to the little tickle in their throat.
6. They are so paranoid saying, "Don't touch me with those germy hands!" and accusing every single Chinese food buffet in America of purposely skimping on the shrimp in the subgum wanton.
7. They overcook everything, masking it as intentional even though they just forgot what time they started cooking it.
8. They love to buy really cheap but colorful crap, then forgetting they bought it, re-buy the same thing in a different color.
9. They can't get enough Werther's Originals or cough drops and are always sucking on one.
10. They also pop pills in between brownies.
What do you think?