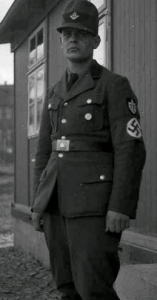 BY: ROBIN ESROCK
It was my first day of my epic one-year, round the world trip.
My first stop was Lima, Peru. Through a contact in Vancouver I had connected with a guy who owned a B&B and offered me a place to stay. He came from old money and his house was great, right in the affluent neighbourhood of Miraflores. I wake up in the morning, he takes me to the beach with his friends, lovely people. What a way to start – authentic moments with locals, no tourist bubbles – this is why I wanted to travel in the first place. One of his friends asks me if I'd like to go out with her 23 year old daughter.
Umm, sure! She swings by that night, and wow, she's beautiful and cool, and we have a grand old time out. Takes me weeks to get a date back home, but first night on my trip – pow, just like that!
The next day she invites me over to her house. After getting lost on foot, I eventually find it, and it's a beautiful old house in a cobblestone courtyard. I knock on the door, the mom answers, thrilled that the gringo and her daughter are hitting it off. They start showing me around the house, full of antique furniture, old rugs. The daughter takes me by the hand and leads up the wooden stairs to her bedroom. And at the top of the stairs, nicely framed in the centre, there it is: A black and white photo of a man. In a Nazi uniform.
"Er…who's that?," I ask, stunned.
"My grandfather," she replies casually. "He's downstairs and wants to meet you.
Now there's an old Nazi who wants to meet me in the kitchen.
Lots of Nazis fled to South America after the war, especially the more complicit ones. I just didn't expect to be meeting one on the second day of my travels. We shake hands. He has a thick German accent, pulls out a bottle of pisco from the freezer. We shoot back one, two, and are on to our third glass. He's asking me questions, where I'm from, how I ended up in Lima. Under the table, my hands are literally shaking with anger and fear and all these emotions. I have every Holocaust movie I've ever seen playing in my head.
"So, you're originally from South Africa," he says.
"Yes."
"Are you Dutch?"
"No, my grandparents immigrated from Eastern Europe."
– and then, I see the words forming in my mouth like pressure, and I just have to release them –
"they were lucky enough to escape the NAZIS!"
He reacts as if I've just kicked him in the shins. Pours another drink.
"You are Jewish?"
My chest is exploding. "Yes, I'm Jewish" I say, throwing the words right in his eyeballs, and down his throat.
He shoots back the pisco, and says, calmly, "Good people, the Jews."
The granddaughter's had enough. She sees something's up. She grabs me by the shoulders and ushers me out the house. We're going out for lunch, she's going to show me around town. I ask her about her grandfather. She tells me he came from Germany after the war, married her Peruvian mother, and doesn't talk about it. I ask her about the photo, she tells me it's weird, but he's proud of it.
I never saw the old Nazi again.  I wish I possessed the poise and instinct to question him about that photo, about his past. Those skills only developed later in my trip, when enough weird things happened for me to know how to deal with them. It's my deep regret that I left that kitchen never to return, losing an opportunity to engage a Jew's biggest nightmare – a Nazi – real or imagined.   I departed Lima and continued my journey to 24 countries.   By the time I got to Poland, six months later, the scab was ready to be picked off.
Travel writer Robin Esrock has since journeyed to over 100 countries on 6 continents, and is the host of Word Travels, a 40-part TV series broadcast around the world.  You can read his blog at: www.moderngonzo.com
What do you think?