Midway through this season of Celebrity Apprentice, football-player-turned-wrestling-legend Bill Goldberg is pushing himself harder than ever. Believe it or not, out-maneuvering "eclectic" castmates like Sharon Osborne and Cyndi Lauper can feel harder than jackhammering Hulk Hogan. At 6'4″ and 285 pounds, Goldberg has proven to be an intimidating presence on the mat and in the boardroom. The 43 year-old chatted with Heeb about life as a famous Jewish athlete and how bizarre it is to hear forty thousand Christians screaming the word "Goldberg."
You went from a college football All-American to pro wrestling to action movies. Now you're on the Celebrity Apprentice? Ever consider becoming a doctor?
Absolutely not. Why be like everyone else? I gotta buck the trend.
Is it true you first thought about using "The Mossad" as your wrestling name?
Yeah, that was the first name that popped in my mind, but I thought it was quite insensitive.
And the Jewish Star on your trunks?
Never had a Jewish star on my trunks.
There are reports or you going back to the WWE and Hogan said you might join the TNA.
Hulk Hogan's full of crap, first of all. And me talking to WWE is all about a mechanizing deal . . . Could it lead to something else? Well, WrestleMania's in Atlanta next year. Between Hogan and I, we put 42,000 people in the seats there. Who knows, man? You never say never, but I'm 43 and I sure as hell ain't looking to get back in the ring again.
Adam Sandler once said you were a bigger deal for Jews than "the Hanukkah Song." Pretty cool to have 40 thousand (mostly Christian) fans screaming, "Gold-berg, Gold-berg."
Yeah, it was awesome. What's even stranger than that is being in the deep South, and having not one person say anything derogatory during my entire run at the WCW about me being Jewish.
Never?
Not one thing.
Then again, you're clearly not the guy to talk shit to.
Absolutely, absolutely. Hey, it is what it is, man. Although there are some crazy stupid people out there, and a lot of them are wrestling fans. I was very surprised and honored that nobody went there, y'know?
One of many Goldberg tribute videos. Listen to the fans scream his name.
If I ask you the mandatory real-or-fake wrestling question, are you gonna open-hand slap me?
No, I wouldn't do that. And it's an insult to people's intelligence to even profess that it's real.
Why do some still insist it's real?
It's not that they think believe it's real; it's that they want it to be real. They don't want anybody to tell them it's fake. And it's not 'fake,' it's pre-determined. At the end of the day they're telling a story and they're giving people the ability to suspend the beliefs of their normal-day lives. The fans are living vicariously through these characters and they don't want it to be pre-determined. And, hey, more power to them to be able to find something to lose themselves in, y'know?
Well, if wrestling is this mix of sports and theater, was it a good transition for you as an action star?
I wouldn't say I'm an action star by any stretch of the imagination. I've been involved in 8, 9 movies. There's only one action star out there who segued from wrestling and that's Rock. I like the television side of it. I can shoot one of my TV shows – a ten-episode show in 21 days sometimes. My life is predicated on quality of life these days. Movies take you on-location around the world for, y'know, 3, 9, twelve months sometimes. At the end of the day, my time spent with my family is much more important than any money or any fame.
You really are a nice Jewish boy, huh?
I am . . . It's great to be able to make millions of dollars out on the road – be this guy and be that guy – but, hey, man, at the end of the day, if you can't spend that quality time with your family, then I'd rather be poor.
How Celebrity Apprentice going? Any freak-outs?
Absolutely. I think I made people come to tears once every three days.
Did you slap Blagojevich?
Never slapped anybody. Never touched anybody. It's all on camera, man.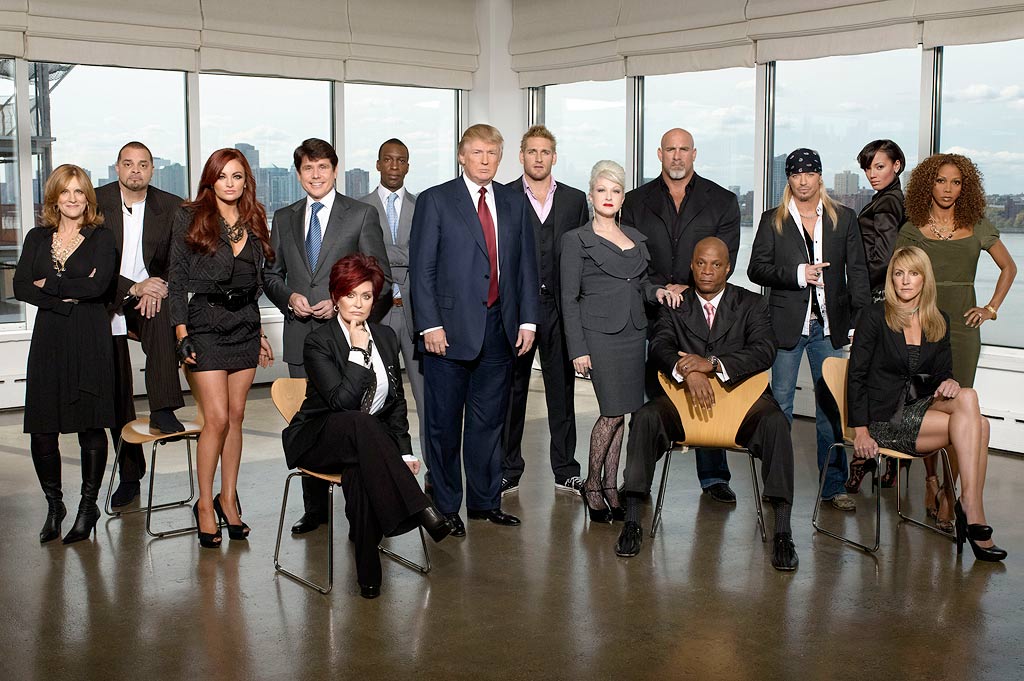 The latest season of Celebrity Apprentice. Bill Goldberg could easily beat the crap out of all these people.
What do you think about Ivanka converting for media mogul Jared Kushner?
Depends on how much of his money she wants. I don't know. [Laughs.] She's a great girl. It was cool to be able to spend a little more time with the Trumps. I know them and they're totally different people off-camera.
Apparently, you're getting inducted into the National Jewish Hall of Fame on April 18. I've never heard of it, and I'm kind of a professional Jew.
(Pause.) Hey, you're gonna have to look it up, man.
What? You don't know?
It's just a group of Jewish athletes they think have gone above and beyond in their elected field – someone to look up to. I'm extremely honored to be part of the 2010 class. Do I deserve it? I don't know. I don't think so.
Jeez, you're humble. So? "Who's next?"
Well, Garage Mahal is cool. It comes out April 9 on the Do-It-Yourself network. We go to people's cluttered garage and transform it . . . I've got my third season of Bullrun being aired right now on the Speed channel. It's a rally three thousand miles across the country. Twelve games and they drive their own cars. I signed a deal with Ford Motor Company. We're going around to ten military bases in the United States this year. Just trying to give back to the military. Between all that, I gotta be a father and a husband, so I got a lot going on.
To find out more about Bill Goldberg, visit his website. Click here to learn more about the Jewish Sports Hall of Fame.
Related posts:
Stepping into the Ring with Yuri Foreman, Boxing World Champ
Boxer Dmitriy Salita Challenges Amir Khan: "Shine My Belt When I Get it From You"
Ivanka Trump's Big Fat Jewish Wedding
What do you think?