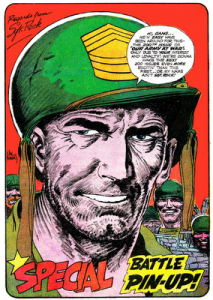 In 2002, writer Michael Straczynski got an Eisner Award.  It was presented to him by Will Eisner himself, at which point Straczynski quipped "You know, you get the Emmy, you don't get it from Emmy.  You get the Oscar, you don't get it from Oscar.  How freakin' cool is this?"
A great moment, and a telling one.  Comic books have become such an integral part of American culture that it's perhaps hard to imagine a time when they didn't exist.  Every now and then, however, we are reminded of just how recent a phenomenon they are.  Sadly, in more recent years, that generally comes when one of those founding fathers, like, Eisner, passes away.
Jewdar got one of those reminders today, when we opened up the paper and saw that Joe Kubert had died.
Kubert, for those unaware, was a kid from a Polish shtetl (by way of Brooklyn) with a talent for drawing, who, when he was just 11 or 12, began working in the comic book biz.  And worked.  And worked.  Although Kubert also wrote, he was primarily known as an artist,with a distinctive style that helped set him–and the comics he drew, most famously, Sgt. Rock, above–apart.  In recent years, he turned his attention to Jewish themes, writing both graphic novels like Jew Gangster and Yossel April 19, 1943 (in which he imagined an alternative life in which his family didn't emigrate–hint, it doesn't end well), and incorporating them into the Sgt. Rock story, The Prophecy.
Although Jewdar found his Jewish pieces below par, we certainly read enough war comics growing up to appreciate the man and his legacy, which includes not just his own work, but the Joe Kubert School of Cartoon and Graphic Art, and two of his five kids (Adam and Andy) who have also become successful comic book artists.
That legacy also helps highlight the degree to which comics were a Jewish affair, in which almost all the early writers, artists and businessmen involved were members of the Tribe.
That's not always something to be proud of (the people ripping off Jerry Siegel and Joe Shuster were as circumcised as they were), but Jewdar can't help getting bit misty when we look at something like Dark Knight Rises, and think about how this whole thing started back in the '30's with a bunch of Jewish kids with big imaginations.
What do you think?