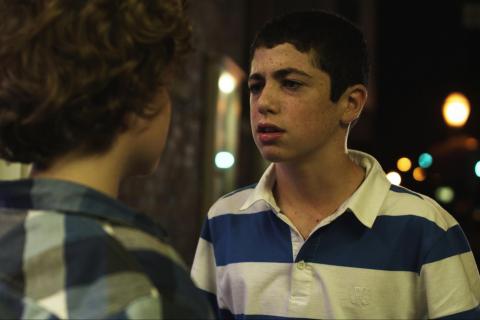 Normally I'm opposed to "finding the Jewish angle" in films, but I'm going to make an exception in the case of Kevin and Matthew Mcmanus's Funeral Kings, which just had its premiere here at SXSW. The film is about a group of Catholic schoolboys who serve as altar boys at funerals to get out of class. They then skip out on the school-day to smoke, eat Chinese food and play with guns. Ah, memories of Hebrew school.
Andy (Dylan Hartigan) and Charlie (Alex Maizus) are best friends who wish they had more badass cred than their suburban, 14 year-old lives afford them. They cuss like sailors and talk about tits every chance they get. Their relationship feels lifted straight out of Superbad, with Andy the moral grounding to Charlie's unleashed ego. They are endearing for their honesty; put a camera on 14 year-old boys when their parents aren't around and this is pretty close to what they'd act like. The Mcmanus brothers have done a great job shaping some genuine kid characters.
The plot thickens when fellow altar server Bobby (Brandon Waltz) disappears, bringing a locked trunk to Andy's house before he goes. His replacement, David (Jordan Puzzo), is a straight-laced movie star who raises the profile of the otherwise haggard crew. The trunk turns out to be a pleasure chest, containing a gun, porn, fireworks and other things boys want to get their hands on. Their adventures continue when they find out a local personality is actually a drug dealer, they go to a high school party where they get in sniffing distance of some hotties and they have a brief brush with violence that leads to some realizations about manhood and responsibility (naturally).
My main complaint with Funeral Kings is that it tries to be too many films at once. Besides the aforementioned Superbad, there are flecks of Goodfellas and David Gordon Green's George Washington splotched throughout. Wrapping that many emotionally diverse tales into one is a tall order even for a seasoned filmmaker (this is the Mcmanus brothers' first feature). Our heros have enough conflict to mitigate before that violent bit at the end; it feels as if the filmmakers wanted to cram as many subplots in as possible.
Now about that Jewish angle. There are many universal themes in Funeral Kings with the Catholic school serving merely as a backdrop for this youthful coming of age tale. The role of ritual in our upbringing is something that the film directly deals in. The non-religious sometimes don't understand that ritual can exist without belief; if you spend that much time at church or at Hebrew school, doesn't that somehow predetermine your theological stance? The answer, to paraphrase our pubescent protagonists, is "Fuck no." Any Jew who says a blessing over a Reuben will understand where these kids are coming from.
For all it's flaws, Funeral Kings is an excellent first effort from the Mcmanus brothers. It's tough not to fall for these little jerks. I'm hoping this one gets picked up and seen by a wider audience.
What do you think?