You gotta give her credit. Sarah Palin knows how to dress to a crowd.
The former vice-presidential candidate visited Lady Liberty today, and in case you aren't sure which voting block she was seeking in the aftermath of Ed Koch's bitter rebuke to the president, "Obama's Treatment of Israel is Shocking," just check out her bling.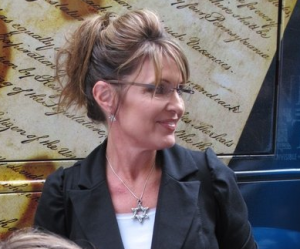 Damn…Jews for Sarah must have soiled their tzitzith!
Picture courtesy of The Maddow Blog via Mobius1ski.
What do you think?