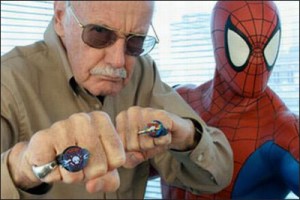 The present proliferation of projects proffered by Stan "The Man" Lee is prodigious, if not preposterous, considering he's close to 89 years old! Mayor of Marvel Comics for many moons and beloved bearer of bombast, Lee co-created (with artists Jack KING Kirby & Steve Ditko) compelling comics characters including Spider-Man, The Fantastic Four, X-Men, Incredible Hulk, Thor, Iron Man, and Silver Surfer. With his earnestly enthusiastic yet super sensationalist "Stan's Soapbox" monthly column in the Bullpen Bulletin, he elevated hype into an egregiously alliterative yet ingratiating art.
This week Lee launched the World of Heroes t-shirt design contest on MASScanvas, which benefits the John Wayne Cancer Institute. He's still got the gift of gamma-irradiated gab and you can get $1000 if your hero-themed design is one of Stan's five.
As part of a charity anthology for Primate Rescue Center, Lee recently wrote Even Gorillas Have Pride, a short cheeky webcomic drawn by Dean Haspiel (artist, HBO's Bored To Death; collaborator, Harvey Pekar and Jonathan Ames; founder, Trip City: A Brookyn-Filtered Literary Arts Salon).
And out this week (preview below), is The Stan Lee Universe, edited by Danny Fingeroth & Roy Thoms, "the ultimate repository of interviews with and mementos about Marvel Comics' fearless leader!" Well, there's no other way to end an article about Stan Lee: Excelsior!
*Bonus* Stan Lee Cameos!
Stan Lee in Mallrats
Stan Lee on The Simpsons

What do you think?